Mossrose Top of the World
2001 Chestnut Gelding ~ 100% Foundation Bloodlines
(World's Edge Goldhawk X Carmida Mist)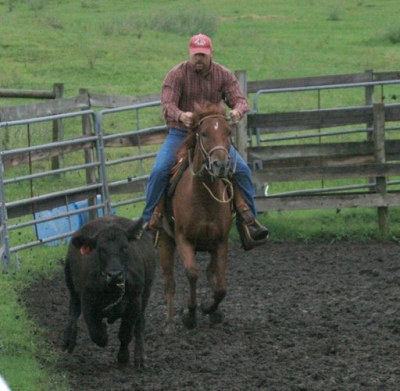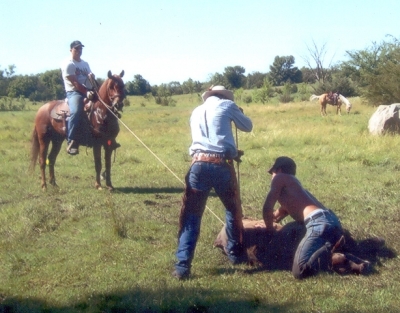 Chief is John's cowhorse. John uses him for ranch rodeos and is also training him to be a heel horse for team roping. Chief loves to chase cattle and is amazingly fast. Chief is an athlete and loves to get out there and work. Chief and John are currently teaching Jane more about team sorting. See the videos below taken on February 7, 2009.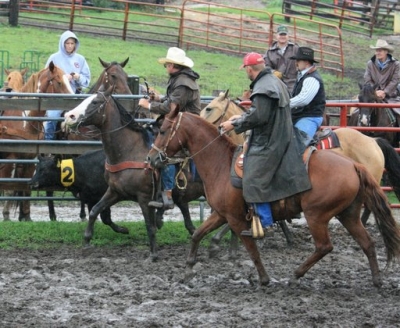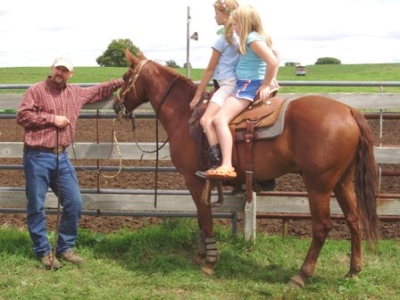 Chief is the horse we use to give visiting children rides. He is the perfect size and his large expressive eyes and curious personality are calming to them.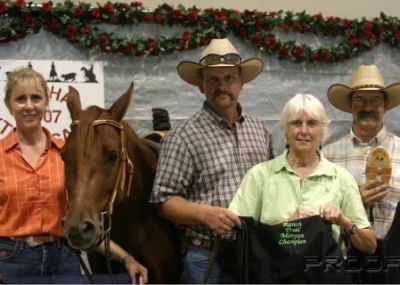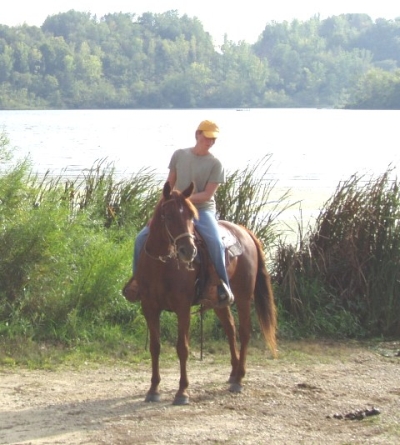 Chief is a FUN, FUN horse and loves to be with people. Whatever they are doing, he wants to be involved. He loves trail riding and is comparable to an ATV. He will go over, under, around or through most anything you ask him to.
Click Here for a link to a YouTube video highlighting Chief's jobs and accomplishments!
Click Here to see a video of Chief in team sorting! (Size is 34.5 MB)
Click Here to see Kati & Jane's 10th & final run to win the 2009 Rimoe Ranch Rookie Series Sortng! (Size is 19.0 MB)
Sire
World's Edge Goldhawk
Sire
Californio
Sire
Tio Lalo
Sire
Mahan Field
Dam
Palomesa
Dam
Sissey
Sire
Romac
Dam
Berta Sonfield
Dam
Funquest Ruby
Sire
Funquest Gold Hawk
Sire
Chief Red Hawk
Dam
Allen's Fancy L
Dam
Funquest Rubyette
Sire
The Brown Falcon
Dam
Modelette
Dam
Carmida Mist
Sire
Shawalla Independence
Sire
Shawalla Buck
Sire
Memphis Beau Brummell
Dam
Bettina Allen
Dam
Shawalla Nellie
Sire
Rockfield
Dam
Wilbur Nellie
Dam
Carmida Memory
Sire
Carm-Ida Cherub
Sire
Cupid Carmen
Dam
Shawalla Darling
Dam
Rityie Carmen
Sire
Alex Allan
Dam
Kathy K R

Westwind Spark
2020 Chestnut Colt (ee/AA) ~ 100% Foundation Bloodlines
(Sweets Baybarry X Westwind Eyelash)
Our herd is built on the line breeding of the Morgan stallions Whippoorwill Duke, Blackwood Correll and Californio. Before my Morgan breeding mentors passed away I asked them where I should go from here when I need to bring in an outcross. They all said I should try to bring in Sweets Baybarry. Years ago I had heard good things about the strong horses in Baybarry's pedigree and knew it would be a good idea. In 2018, we went to Westwind Morgans in western Montana to meet Baybarry in person and look at his offspring. We were looking at one son in particular, Westwind Otto. We liked him the best in the herd, but the more I thought about it he was perfect except for his beautiful dapple palomino color was wrong for us to bring into our herd. The next year brought a full sister, so we waited. 2020 brought a full brother to Otto and the Baybarry son we were looking for was born with a lot of promise. We went to look at him at 3 months old and he did not disappoint. John and I watched him move around and we were all smiles and so excited. We have always gone for horses that excite us with their athleticism and ability. Spark in not going to be a tall horse, but he is one stout, handy colt. Like we saw in his full brother Otto on that first visit, Spark has cowhorse written all over him. He will be a little guy that packs a punch. We are looking forward to crossing him on our big, tall sport type mares. Spark is easy going and looks forward to his lessons. We have really enjoyed getting to know him and work with him. Sweets Baybarry was 26 years old this year, so we are thankful to be able to bring home this solid old breeding in his son.
Sire
Sweets Baybarry
Sire
T-Bone Bimbo
Sire
Rhythms Bimbo
Sire
Archie O
Dam
Rhythm Lovely Lady
Dam
Kings Fancy Duchess
Sire
Kings-Haven Clipper
Dam
Jan Q Allen
Dam
Sweets B Bomb
Sire
Sweets Classy Boy
Sire
Classys Pride
Dam
Princess Pam
Dam
Rhythms Joy
Sire
Rhythms Bimbo
Dam
Lady In Lace
Dam
Westwind Eyelash
Sire
Golden Sondanz
Sire
Golden Sonfield
Sire
Desert Sands
Dam
Shawalla Stormy
Dam
Shawalla Gerri
Sire
Shawalla Kauai King
Dam
Wynnwood Victoria
Dam
Sweets Duchess
Sire
T-Bone Bimbo
Sire
Rhythms Bimbo
Dam
Kings Fancy Duchess
Dam
T-Bone Fella Della
Sire
T-Bone Classy Fella
Dam
Kings Fancy Duchess

Westwind Montana Sky
2020 Bay Colt (EE/AA) ~ 100% Foundation Bloodlines
(Sweets Baybarry X Westwind Cassie)
When we went to look at Westwind Spark, we also took a liking to Westwind Montana Sky. John liked Sky because he was different. John has an excellent eye and is quite particular about his horses, so I trust him when he points out something he likes. Sky is a bit taller than Spark and will be a little more leggy. He is a bold guy who loves to explore and check out new things. We bought both colts as stallion prospects, so we will be watching them grow and play to see how they mature and handle themselves in a herd. We liked the typiness and substance of Sky's grandsire on the dam's side, KS Bluestem Jada Joe, who we were able to see at Westwind Morgans. Sky's dam acted like quite a friendly laid back girl in the herd. I remembered her from our 2018 visit as one of the mares that came right up to us for pets. In a big herd, that is something to take note of. Sky has a great pedigree filled with old Morgan bloodlines. We look forward to seeing how this Sweets Baybarry son matures and what he shows us he will be good at in the future.
Sire
Sweets Baybarry
Sire
T-Bone Bimbo
Sire
Rhythms Bimbo
Sire
Archie O
Dam
Rhythm Lovely Lady
Dam
Kings Fancy Duchess
Sire
Kings-Haven Clipper
Dam
Jan Q Allen
Dam
Sweets B Bomb
Sire
Sweets Classy Boy
Sire
Classys Pride
Dam
Princess Pam
Dam
Rhythms Joy
Sire
Rhythms Bimbo
Dam
Lady In Lace
Dam
Westwind Kassie
Sire
KS Bluestem Jada Joe
Sire
WAR Justin
Sire
Western Mansfield
Dam
Funquest Pukancy
Dam
Sweets Jada Babe
Sire
Sweets Jet Hawk
Dam
T-Bone Cards Fancy
Dam
Adiels Magnolia
Sire
Sweets Classy Zip
Sire
Sweets Classy Boy
Dam
Sweets Dixie Donna
Dam
D's Ebony Lady
Sire
T-Bone Bimbo
Dam
Sweets Jo Jo