3 Stallion Prospects
We are currently raising and evaluating three stallion prospects. I spent many years studying pedigrees and covered many miles looking at Morgans in the flesh. I have always loved, appreciated and respected history. Because of that, I thought it was in my best interest to learn all I could from the breeders who came before me. The horsemen with a passion for the breed that had actually seen the horses of old. The horsemen who knew the stories, knew the horses and knew the people behind them. My mentors have all passed away, but I am carrying on with the plans we talked about for years on how to carry forward the bloodlines we valued. I was fortunate to find mentors who valued the finer qualities of conformation and ability like I did. I'm thankful I had the wherewithall to listen with an open mind and take as many notes as possible. To develop spreadsheets and skills as well as an eye to discern the details of the horse. From this, comes the herd we have today and the prospects we are developing for the future.
Sweets Baybarry is one of the horses we wanted to bring in as an outcross for our Whippoorwill bred mares. Baybarry was a ranch horse in his younger days proving his worth as a using horse. We bought two weanling stud colts by Sweets Baybarry in October of 2020. Westwind Spark is a handy chestnut colt (color tested eeAA). He is out of Westwind Eyelash. Westwind Montana Sky is a handsome bay colt (color tested EEAA). He is out of Westwind Kassie.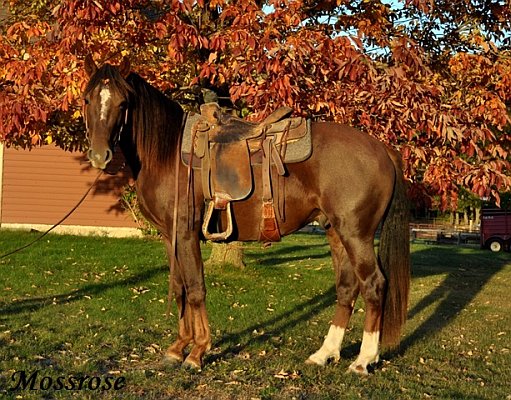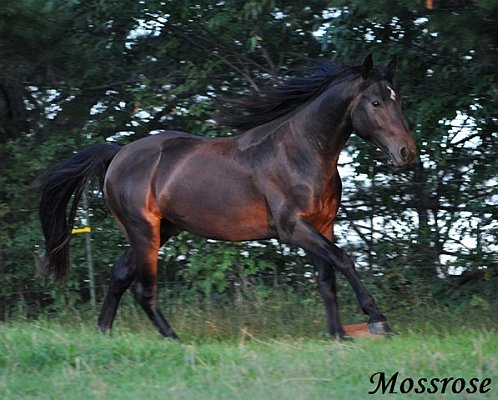 Our third prospect is a 2021 black colt, Mossrose Midnight Moon (Mac). He is the last foal by Whippoorwill Newmoon. Newmoon was bred to LBF Cajun Queen in the spring of 2020. She was 18 years old and he was 32. We lost Newmoon that fall. What a blessing to have one final gift from Newmoon the following spring with this spectacular colt! I'm not exactly sure what the future holds for this colt yet, but he would be a natural cross back on future fillies by Westwind Spark and Westwind Montana Sky. Until then, we are enjoying his stunning presence and exciting movement. He is full of life, brilliance and personality! Mac has the sense of humor and mannerisms that daily remind us of his sire.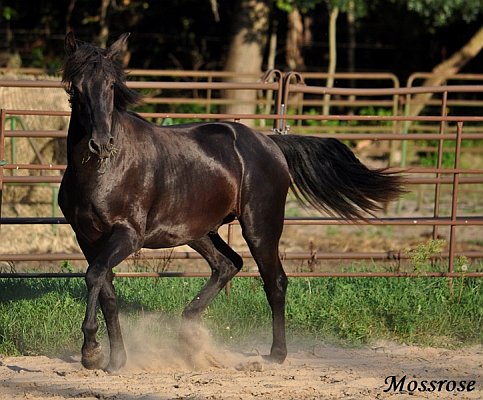 Whippoorwill Morgans have been bred since 1945 for true Morgan type, soundness through excellent feet and legs, intelligence, kind disposition, athletic ability, and above all - versatility. Mossrose Morgans has always had these same goals for their breeding program, but we have been working at getting a more consistent type. The combined blood of Whippoorwill Duke and Blackwood Correll has produced top level champions in reining, dressage and combined driving in major open competition for Whippoorwill Morgans. With Whippoorwill Newmoon daughters and other mares of Whippoorwill Duke and Californio breeding, we are well on our way to producing top notch Morgans that have that consistent type we have been searching for along with all the other qualities it takes to be the best!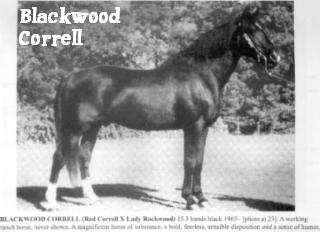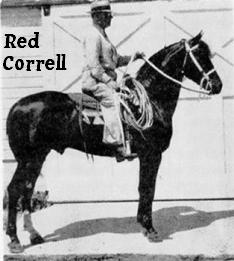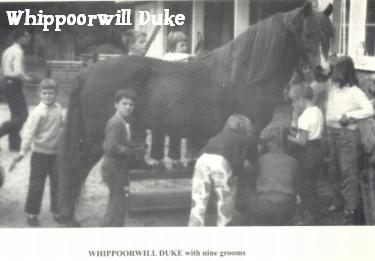 Here is a brief history of Whippoorwill Duke and Blackwood Correll:
Whippoorwill Duke (Squire Burger X Diana-Mansfield) was a 15.1H chestnut stallion foaled in 1952. He was sound, sane, gentle, athletic and beautiful. Duke was a show horse and a fun trail riding horse. As well as being an ambassador for the breed, he sired 88 registered Morgan foals.
Squire Burger (Juzan X Nella) was a 14.3H chestnut stallion, bred by Joseph C. Brunk and foaled in 1938. this lovely stallion was what a Morgan horse should be: solid, sensible, sweet and sound as well as a supreme athlete. Squire Burger won races under saddle (quarter mile record of 22 seconds) against the brand new breed: the Quarter Horse. Squire also was the Arizona State Roping Champion. In New England, he was hunted under sidesaddle, was a National Morgan winner in hand, under saddle and in jumping.
Blackwood Correll (Red Correll X Lady Rockwood) was foaled in 1965. He was black and matured to 15.3H. Blackwood was a working ranch horse and was never shown. He was a magnificent horse of substance, a bold, fearless, sensible disposition and a sense of humor. Blackwood has 6 close-up crosses to Winterest in his pedigree.
Winterset was foaled in 1922 in Iowa. He was a classic black Morgan stallion of ancient Morgan type He was heavily line bred to the fabulous Justin Morgan grandson, Black Hawk. Among his best known descendants was Red Correll, foaled in 1940.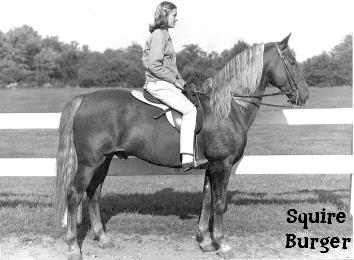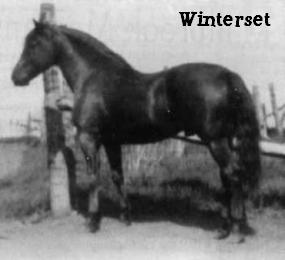 -------------------
Some of the above information came, with permission, from the McCulloch Farm~Whippoorwill Morgans historical brochure. A big thank you goes to Mary Jean Vasiloff, my friend and mentor, for keeping these bloodlines alive and pure!