We get visitors to see the horses every so often. I always look forward to these visits to meet another person passionate about the Morgan Horse. To talk over bloodlines, history and evaluate horses is about as good as it gets for me! Yesterday's visitor mentioned that I need to update my website. She said, "It isn't as out of date as some, but . . . " Well, I took the hint and sitting down at the computer, I agree with the visitor and realize I have some work to do! So she has inspired me and today is the day.
It has been the usual farm work here in the last couple of years. I had another wonderful horse helper, Grace. We got a lot done with the horses and I thoroughly enjoyed her skills as well as her friendship. Yes, 2 Graces in a row. Then a leased mare named Grace and now a dog named Grace. The Lord is definitely speaking to me. I suppose shouting is more like it, at this point! I need to pay attention!
2022 is the third summer we have been hosting weekly Working Equitation obstacle practice nights. Our area is a hot bed of horse activities, but so far there haven't been any Working Equitation shows. I have gone to three local clinics. A friend and I decided it was something worth working toward and maybe being a part of putting on some shows in the future. We will see how that evolves. In the fall of 2021, a clinician did come to the area to put on a clinic one day and a fun show the next. Myself and two other riders from our group went to the clinic and fun show. Since we had been practicing two summers, we had a mile long list of questions at the clinic! We learned a lot, took lots of notes and had a wonderful time. At the fun show, one of the gals in our group (who also happens to ride a Morgan) won the overall champion medal for the day. Myself, riding Mossrose Top of the World (Chief), was reserve champion overall. The second rider from our group won the speed round. It was rewarding to have all of our practice pay off!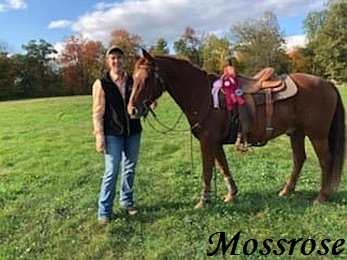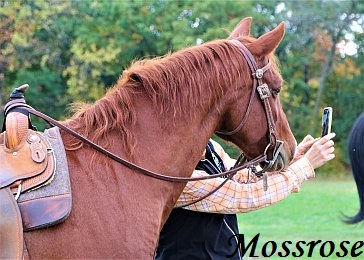 September 2020
A long time ago, I asked one of my Morgan Horse breeding mentors, Mary Jean Vasiloff, how to describe a young horse I had raised. She told me to speak from the heart. I've been thinking on just how to write a fitting tribute to a legacy stallion. I decided to take Mary Jean's advice again & just speak from the heart. The only problem is when I think on it too much, my heart isn't ready for this. We had to say goodbye to Whippoorwill Newmoon last month. When a horse gets to age 32, your brain tells you he's already living on borrowed time, but that doesn't make it any easier when the final day comes. I never really felt right calling Newmoon "our" stallion. Seems he will always belong to his breeder Mary Jean Vasiloff, who owned him for 28 years, & to all of his fans. I felt humbled & blessed that I got to be Newmoon's caretaker the last 12 years of his life. To be a student of the horse is truly an honor & Newmoon taught me a lot.
Athletic ability & good conformation have always been the most important qualities we want in our horses. To us, Newmoon was that perfect horse. Every horse we look at is compared to him. :) He was a gentleman & submissive to his handler. He was hardy & easy to live with everyday. Anyone could ride him or drive him. He was a businessman, which made it hard to get good pictures of him! :) He saw no purpose in showing off or posing for a camera. He was classy & distinctive until the end.
Newmoon is most well known for his successful show career in reining, but also showcasing his abilities to large crowds at McCulloch Farm's Morgan Horse Versatility Events in Old Lyme, Connecticut. He made a lot of friends & admirers along the way. Many are enjoying his offspring. He sired 70+ foals & I'm looking forward to one more in April 2021. It has been rewarding to watch his offspring be ambassadors for the versatile Morgan horse, as well as producers of the next generation. His offspring are used in most every discipline including driving, dressage, jumping, working equitation, reined cowhorse, competitive trail & all around family pleasure horses.
Along with Newmoon's visible qualities, he was also a treasure chest of old bloodlines up close in his pedigree. Newmoon's sire was the 1965 15.3H black working ranch horse, Blackwood Correll by Red Correll. Just think, Newmoon's sire was born 55 years ago! A true testament to the breed's charecteristic longevity. Newmoon's dam was the endurance & carriage competitor Whippoorwill Kathleen. Kathleen was a daughter of the 1952 renowned stallion, Whippoorwill Duke, a show horse, fun trail horse & ambassador for the breed. Duke himself was a great-grandson of Jubilee King.
As I reflect on his career and his life down to the end, I can't come up with a phrase that fully encompasses exactly who Whippoorwill Newmoon was. To me, he was everything I envisioned a Morgan Horse should be. Rest in Peace sweet Moon. Thank you for everything.
June 2018