Morgans For Sale

Mossrose Ysabella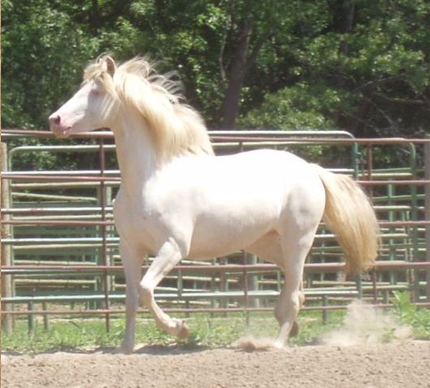 Mossrose Ysabella is a 14.2H 2006 smoky cream mare sired by the well known buckskin reiner and Breyer model, Montana Harvest. She is out of the treasured palomino mare, Whippoorwill Salus, an own daughter of cutting champion Californio. Bella has 100% Foundation bloodlines. She has been coat color tested and is Eeaa. Her foals can only be smoky black, cream, palomino or buckskin no matter what color stallion she is bred to.
Bella has a very sweet personality and the most wonderful no muss, no fuss attitude. She is fantastic to work with, with her amazingly quiet and willing work ethic. Bella was my personal riding horse for a few years & went well under saddle. She had three quality gaits. She stopped quickly on her hindquarters and maneuvered smoothly on a loose rein. She was getting quite good at turning around on her hindquarters and front end, and yielding to leg pressure when last I rode her. She went on trail rides and I used her for cutting lessons and pleasure riding. She was not spooky and looked to her rider for direction. She hasn't been ridden in years. I sold her as an 8 year old. The buyer decided, after a year, that she wanted to send her back. I went to pick her up and she was very thin and lame. We have had her examined twice and did some nerve blocks to see if we could get her sound. It was determined that nerving her would not help enough to make it worth doing. She gets along fine and her lameness has not gotten any better or any worse. We don't ride her anymore, but use her for a broodmare, which she loves! She is well suited, is a fabulous mother and has produced some wonderful offspring that always grow taller than herself, currently 14.3 to 15.1H. With Bella's rare bloodlines and exceptional conformation, she is valuable to the Morgan breed as a broodmare.
Bella is currently in foal to Westwind Spark for an April 2024 foal. Westwind Spark is a full brother to Westwind Otto. Otto is currently competing in reined cowhorse events at the national level. Spark is very nice, athletic & handy. The foal will be a working type of Morgan with a western look in either a palomino or buckskin wrapper. Mossrose Ysabella is priced at $12,000.
Click Here for a video of Bella in her younger days!
Sire
Montana Harvest
Sire
Triple S Red Cedar
Sire
Triple S Red Major
Sire
Blackwood Correll
Dam
Cherrie
Dam
Triple S Goldusty
Sire
Mar-Los Colonel Hamtramck
Dam
Lucie
Dam
Tia Margarita
Sire
Tio Lalo
Sire
Mahan Field
Dam
Palomesa
Dam
Gay Berta
Sire
Gay Mac
Dam
Roberta Ro
Dam
Whippoorwill Salus
Sire
Californio
Sire
Tio Lalo
Sire
Mahan Field
Dam
Palomesa
Dam
Sissey
Sire
Ro Mac
Dam
Berta Sonfield
Dam
Whippoorwill Pazazz
Sire
Whippoorwill Duke
Sire
Squire Burger
Dam
Diana-Manfield
Dam
Piankeshaw Juzana
Sire
Dell's Valley Jubilee
Dam
Zana

Mossrose Patrick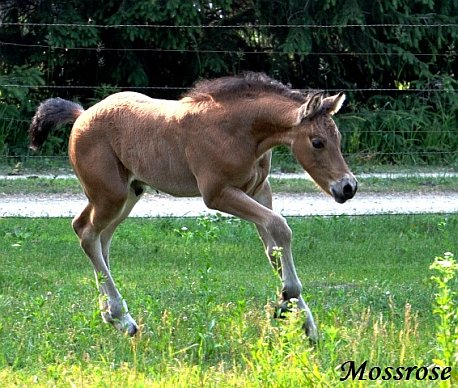 Mossrose Patrick is a 2023 buckskin colt sired by the up & coming buckskin stallion, Edgefield Patriot. He is out of our best producing mare, Mossrose Dandy Jewel. Jewel is a daughter of the late multi-chamion reiner, Whippoorwill Newmoon, and the late pleasure riding mare, Whippoorwill Halo. Patrick has 100% foundation bloodlines. Patrick is quite fancy & will mature to around 15.2H. We raised a full brother that is now 3 years old. He is headed toward western dressage & has the brains, ability & good looks to succeed in that arena. He turns heads wherever he goes & I expect nothing less from Patrick. These are versatile Morgans, bred with purpose & a particular eye toward ability & work ethic to do well in a working &/or showing type of environment.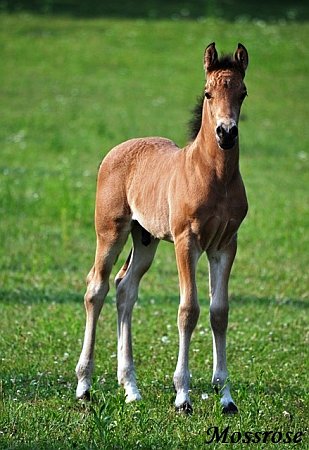 Photos are of Patrick at 3 weeks old. This is a solid colt with excellent conformation & a fun loving personality. In the future, he will make a great riding partner & a tough competitor in the show ring in a variety of disciplines. Mossrose Patrick is priced at $6,000. before weaning. A $500 deposit will hold him.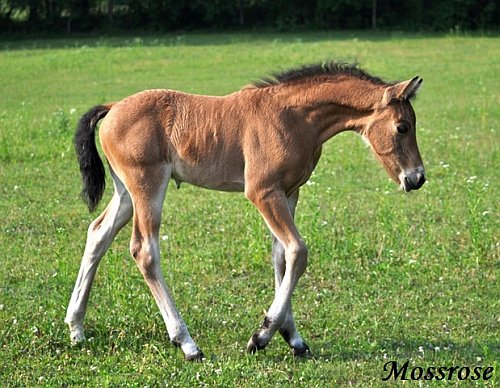 Sire
Edgefield Patriot
Sire
Edgefield Sun Gold
Sire
Sunup Neptune
Sire
Sunup Shenandoah
Dam
Goldie Zephyr
Dam
Mill Creek Chica Caliente
Sire
Pinehaven Chief
Dam
Lenawee Charity
Dam
After Dark Scarlet Lace
Sire
Funquest Roadmaster
Sire
Funquest Speedy
Dam
Funquest Rapsody
Dam
AB Ameretto
Sire
General Crook
Dam
Buttons Dainty Doll
Dam
Whippoorwill Dandy Jewel
Sire
Whippoorwill Newmoon
Sire
Blackwood Correll
Sire
Red Correll
Dam
Lady Rockwood
Dam
Whippoorwill Kathleen
Sire
Whippoorwill Duke
Dam
Broadwall Mayfield
Dam
Whippoorwill Halo
Sire
Sereno Dandy Vermont
Sire
Whippoorwill Telstar
Dam
Serena Fancy Vermont
Dam
Whippoorwill Corona
Sire
Blackwood Correll
Dam
Whippoorwill Aurora

For Sale By Others
SingingHeart FlyingHawk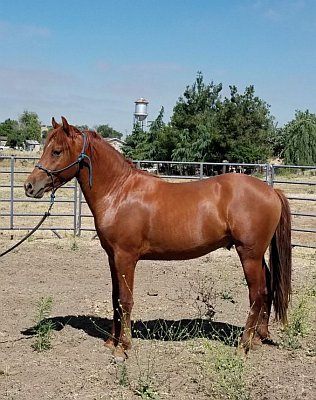 2 year old chestnut colt by OGO Luna Illuminati and out of the Whippoorwill Newmoon daughter, Mossrose Moondancer. Hawk has 100% foundation bloodlines. Ground ties, ties with supervision to a fence. Knows voice commands for walk, trot and canter on a long line. Faces up to you when asked to stop. Working on lunging without line. Stands well for farrier. He is a typical stud colt, beginning to know that he's a boy, but definitely not pushy about mares. Well behaved. Has been stabled next to a mare for months without incident. Temperament on a scale of 1 to 10, he's about a 5. Loves attention and brushing. He is very willing to learn and pays attention to you without a lot of attitude. Hawk is currently 15.1H and should mature to 16H.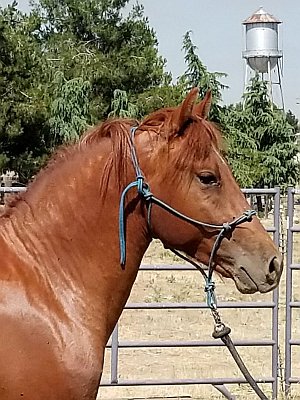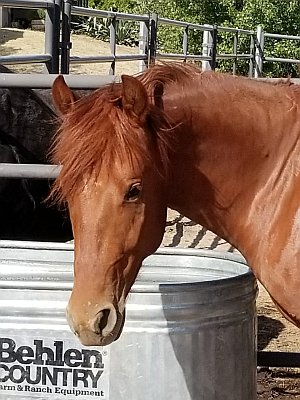 Photos are of Hawk at 2 years old taken in July of 2023. Beautiful strong, floaty movement. Dressage champion background. Will make a wonderful all-around riding horse or dressage prospect. He has been left as stud due to his Foundation breeding. Buyer's choice as to gelding once purchased. Hawk is priced at $5,000. Located in Paso Robles, California. For more information, contact Donna DeAmaral at donnadeamaral@yahoo.com or telephone 805-459-3418.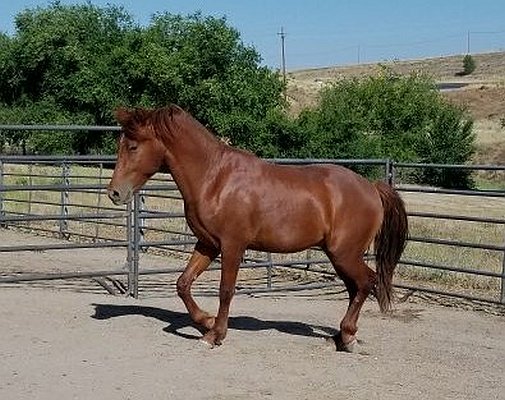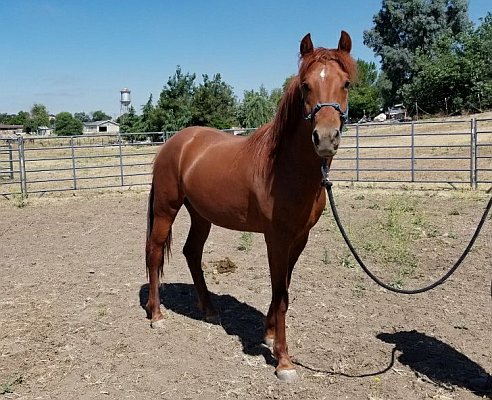 Sire
OGO Luna Illuminati
Sire
Caduceus Denver
Sire
Wyoming Flyhawk
Sire
Domino Joe
Dam
Lily Black
Dam
Topside Sable
Sire
Kings-Haven Senator
Dam
Topside Sassafras
Dam
STK Black Velvet
Sire
Whippoorwill Ebony
Sire
Blackwood Correll
Dam
Whippoorwill Locket
Dam
Whippoorwill Jazstar
Sire
Whippoorwill Telstar
Dam
Whippoorwill Jazana
Dam
Mossrose Moondancer
Sire
Whippoorwill Newmoon
Sire
Blackwood Correll
Sire
Red Correll
Dam
Lady Rockwood
Dam
Whippoorwill Kathleen
Sire
Whippoorwill Duke
Dam
Broadwall Mayfield
Dam
Red Rose Stardancer
Sire
Triple S Bald Eagle
Sire
Triple S Gold Eagle
Dam
Triple S Red Carmen
Dam
Mon Tana Dancer
Sire
H-Saracen
Dam
Mon Tana Morgan