Mossrose Top of the World
2001 Chestnut Gelding ~ 100% Foundation Bloodlines
AMHA No.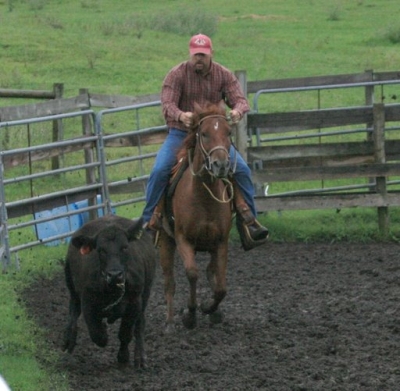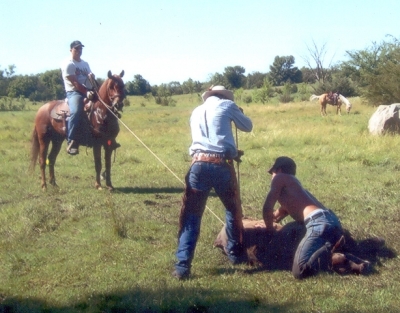 Chief is John's cowhorse. John uses him for ranch rodeos and is also training him to be a heel horse for team roping. Chief loves to chase cattle and is amazingly fast. Chief is an athlete and loves to get out there and work. Chief and John are currently teaching Jane more about team sorting. See the videos below taken on February 7, 2009.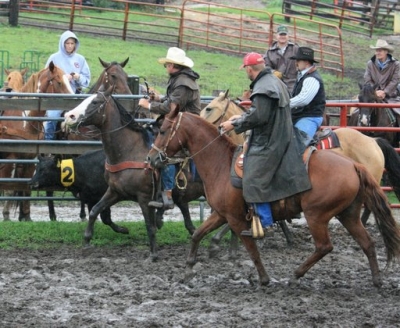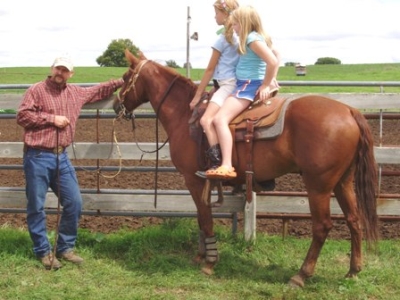 Chief is the horse we use to give visiting children rides. He is the perfect size and his large expressive eyes and curious personality are calming to them.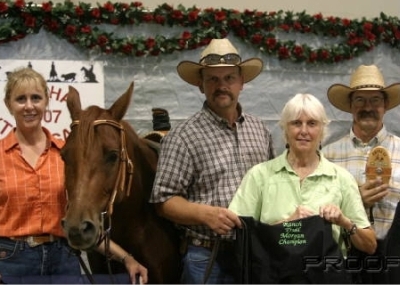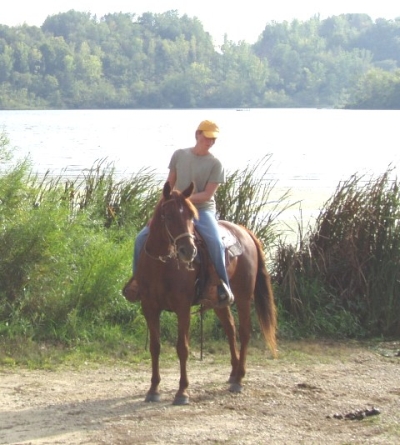 Chief is a FUN, FUN horse and loves to be with people. Whatever they are doing, he wants to be involved. He loves trail riding and is comparable to an ATV. He will go over, under, around or through most anything you ask him to.
Click Here for a link to a YouTube video highlighting Chief's jobs and accomplishments!
Click Here to see a video of Chief in team sorting! (Size is 34.5 MB)
Click Here to see Kati & Jane's 10th & final run to win the 2009 Rimoe Ranch Rookie Series Sortng! (Size is 19.0 MB)
Sire
World's Edge Goldhawk
Sire
Californio
Sire
Tio Lalo
Sire
Mahan Field
Dam
Palomesa
Dam
Sissey
Sire
Romac
Dam
Berta Sonfield
Dam
Funquest Ruby
Sire
Funquest Gold Hawk
Sire
Chief Red Hawk
Dam
Allen's Fancy L
Dam
Funquest Rubyette
Sire
The Brown Falcon
Dam
Modelette
Dam
Carmida Mist
Sire
Shawalla Independence
Sire
Shawalla Buck
Sire
Memphis Beau Brummell
Dam
Bettina Allen
Dam
Shawalla Nellie
Sire
Rockfield
Dam
Wilbur Nellie
Dam
Carmida Memory
Sire
Carm-Ida Cherub
Sire
Cupid Carmen
Dam
Shawalla Darling
Dam
Rityie Carmen
Sire
Alex Allan
Dam
Kathy K R

Mossrose Golden Ridge
2014 Buckskin Stallion ~ 100% Foundation Bloodlines
AMHA No. 188830 ~ Coat Color Tested Ee/Aa
2014 colt by reining champion Whippoorwill Newmoon and out of Mossrose Ysabella by Montana Harvest.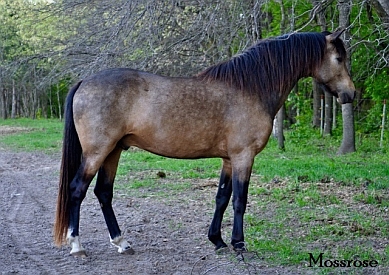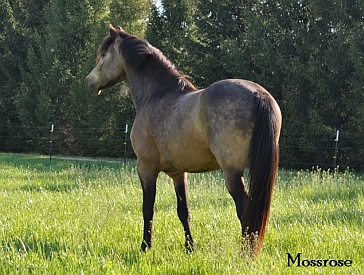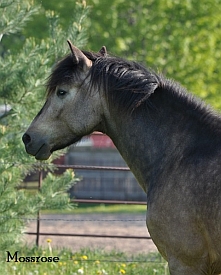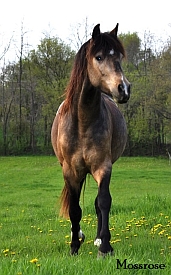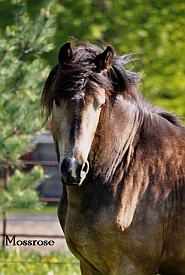 2016 Photos Below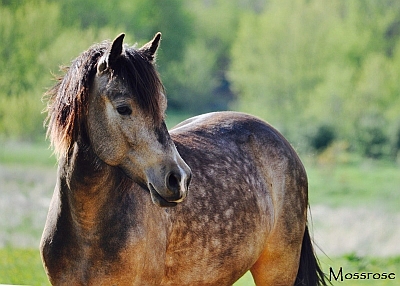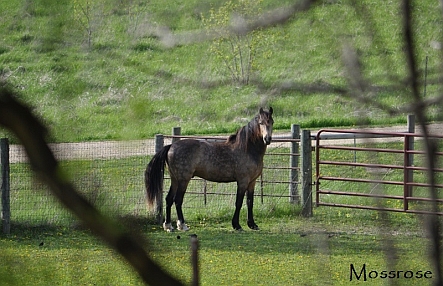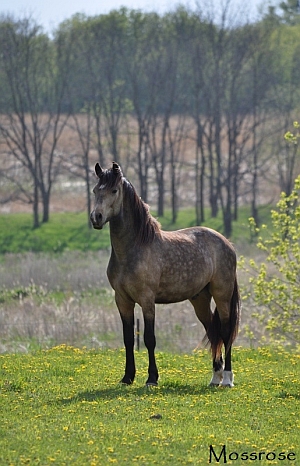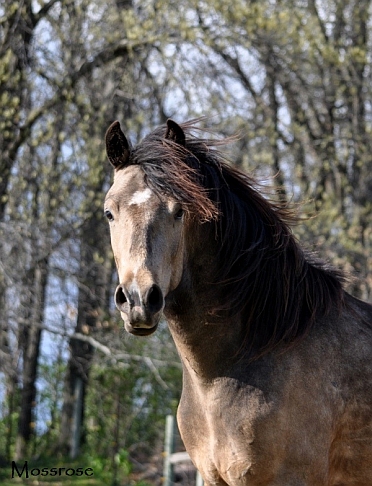 I can't express how much we are enjoying this colt! He has inherited the easy going and sweet personality of his sire and dam. He is a joy to work and breathtaking to watch. We aren't sure what Ridge's future looks like just yet, but feel he should remain intact to perpetuate the old 100% Foundation bloodlines he carries as well as be used to promote the Morgan breed. We may stand him at stud to the public in the future. At this time, he is being trained under saddle.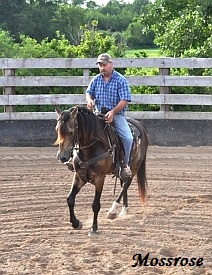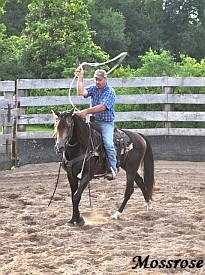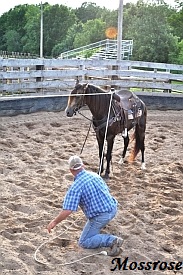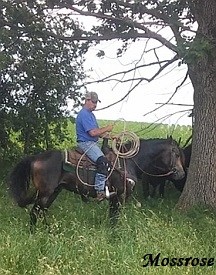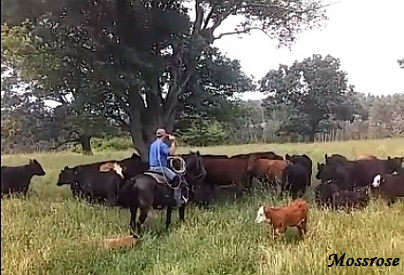 Click Here for a link to a YouTube video of Ridge at liberty at two years old, August 13, 2016.
Sire
Whippoorwill Newmoon
Sire
Blackwood Correll
Sire
Red Correll
Sire
Will Rogers
Dam
Kate Smith
Dam
Lady Rockwood
Sire
Shenandoah Red
Dam
May Rockwood
Dam
Whippoorwil Kathleen
Sire
Whippoorwill Duke
Sire
Squire Burger
Dam
Broadwall Mayfield
Dam
Diana-Mansfield
Sire
Panfield
Dam
Silver Mae
Dam
Mossrose Ysabella
Sire
Montana Harvest
Sire
Triple S Red Cedar
Sire
Triple S Red Major
Dam
Triple S Goldusty
Dam
Tia Margarita
Sire
Tio Lalo
Dam
Gay Berta
Dam
Whippoorwill Salus
Sire
Californio
Sire
Tio Lalo
Dam
Sissey
Dam
Whippoorwill Pazazz
Sire
Whippoorwill Duke
Dam
Piankeshaw Juzana