Mossrose Top of the World
2001 Chestnut Gelding ~ 100% Foundation Bloodlines
(World's Edge Goldhawk X Carmida Mist)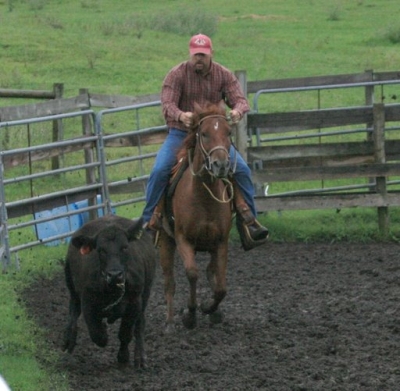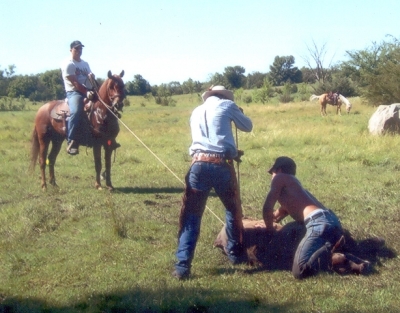 Chief is John's cowhorse. John uses him for ranch rodeos and is also training him to be a heel horse for team roping. Chief loves to chase cattle and is amazingly fast. Chief is an athlete and loves to get out there and work. Chief and John are currently teaching Jane more about team sorting. See the videos below taken on February 7, 2009.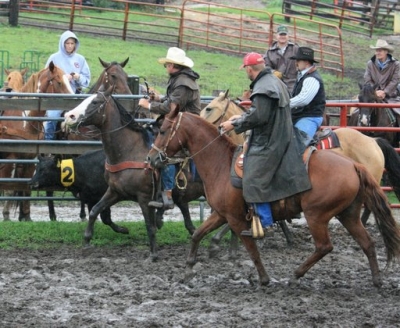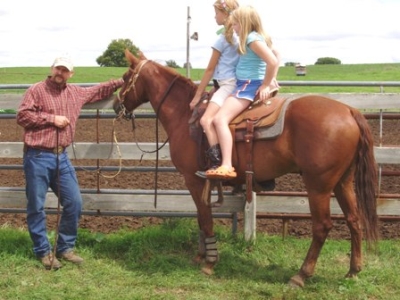 Chief is the horse we use to give visiting children rides. He is the perfect size and his large expressive eyes and curious personality are calming to them.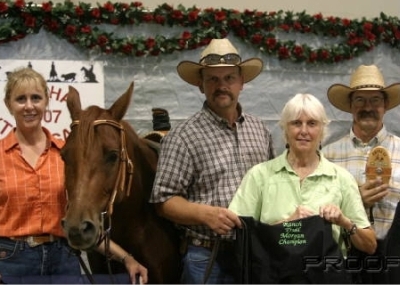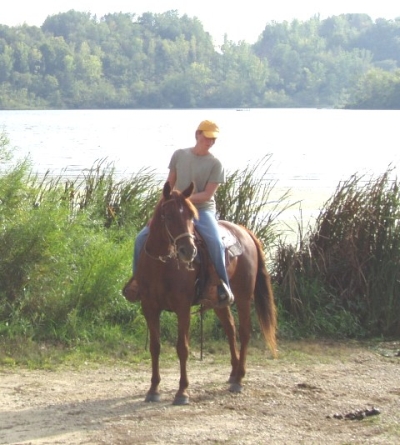 Chief is a FUN, FUN horse and loves to be with people. Whatever they are doing, he wants to be involved. He loves trail riding and is comparable to an ATV. He will go over, under, around or through most anything you ask him to.
Click Here for a link to a YouTube video highlighting Chief's jobs and accomplishments!
Click Here to see a video of Chief in team sorting! (Size is 34.5 MB)
Click Here to see Kati & Jane's 10th & final run to win the 2009 Rimoe Ranch Rookie Series Sortng! (Size is 19.0 MB)
Sire
World's Edge Goldhawk
Sire
Californio
Sire
Tio Lalo
Sire
Mahan Field
Dam
Palomesa
Dam
Sissey
Sire
Romac
Dam
Berta Sonfield
Dam
Funquest Ruby
Sire
Funquest Gold Hawk
Sire
Chief Red Hawk
Dam
Allen's Fancy L
Dam
Funquest Rubyette
Sire
The Brown Falcon
Dam
Modelette
Dam
Carmida Mist
Sire
Shawalla Independence
Sire
Shawalla Buck
Sire
Memphis Beau Brummell
Dam
Bettina Allen
Dam
Shawalla Nellie
Sire
Rockfield
Dam
Wilbur Nellie
Dam
Carmida Memory
Sire
Carm-Ida Cherub
Sire
Cupid Carmen
Dam
Shawalla Darling
Dam
Rityie Carmen
Sire
Alex Allan
Dam
Kathy K R

Mossrose Golden Ridge
2014 Buckskin Gelding ~ 100% Foundation Bloodlines
Coat Color Tested Ee/Aa
(Whippoorwill Newmoon X Mossrose Ysabella)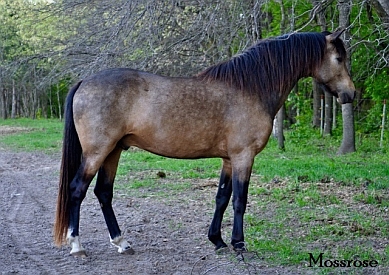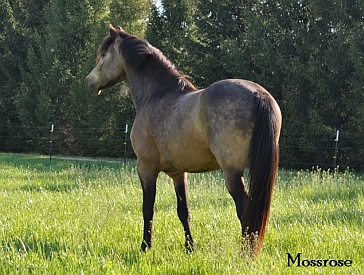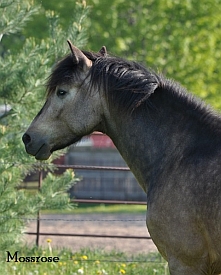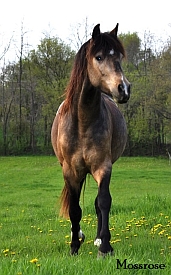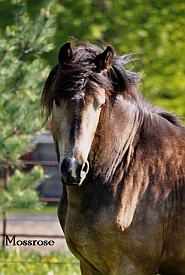 2016 Photos Below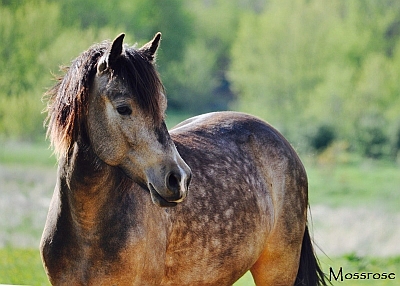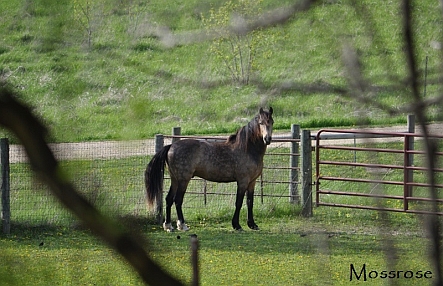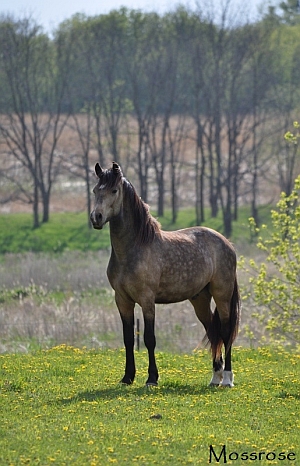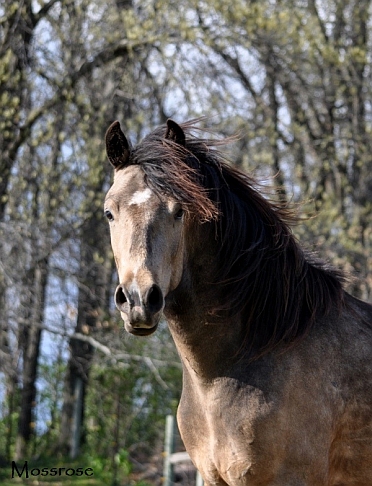 This is one nice gelding! Ridge is a classic Morgan representative that should be used to promote the Morgan breed as he is talented and eye catching. He has plenty of Morgan type, is stunning to look at and well mannered. Ridge had saddle training in May, June and July of 2018. He is currently 15.1H, but has some growing and filling out to do yet. Ridge is sired by the multi-champion reiner, Whippoorwill Newmoon. Newmoon's sire was the 15.3H black working ranch horse, Blackwood Correll (by Red Correll), foaled in 1965. Newmoon's dam was the 1967 Whippoorwill Duke daughter, Whippoorwill Kathleen, a carriage competitor. Ridge's dam is our lovely mare, Mossrose Ysabella, sired by the reining champion Montana Harvest. Bella is out of Whippoorwill Salus who was sired by the cutting champion, Californio. Performance Plus in this pedigree!! Athletic ability is no accident in the Morgans we breed.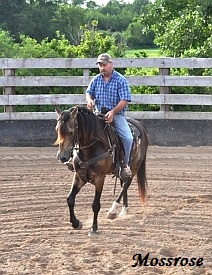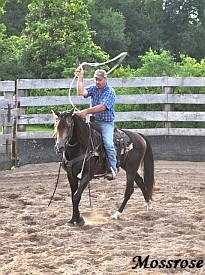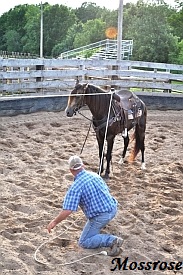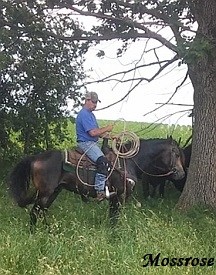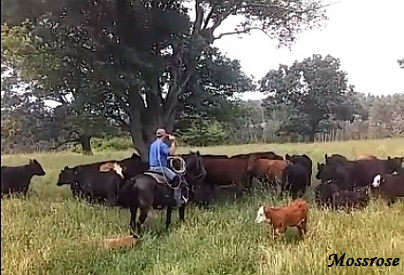 Click Here for a link to a YouTube video of Ridge at liberty at two years old, August 13, 2016.
Sire
Whippoorwill Newmoon
Sire
Blackwood Correll
Sire
Red Correll
Sire
Will Rogers
Dam
Kate Smith
Dam
Lady Rockwood
Sire
Shenandoah Red
Dam
May Rockwood
Dam
Whippoorwil Kathleen
Sire
Whippoorwill Duke
Sire
Squire Burger
Dam
Broadwall Mayfield
Dam
Diana-Mansfield
Sire
Panfield
Dam
Silver Mae
Dam
Mossrose Ysabella
Sire
Montana Harvest
Sire
Triple S Red Cedar
Sire
Triple S Red Major
Dam
Triple S Goldusty
Dam
Tia Margarita
Sire
Tio Lalo
Dam
Gay Berta
Dam
Whippoorwill Salus
Sire
Californio
Sire
Tio Lalo
Dam
Sissey
Dam
Whippoorwill Pazazz
Sire
Whippoorwill Duke
Dam
Piankeshaw Juzana

Mossrose King Correll
2018 Chestnut Colt ~ 100% Foundation Bloodlines
(Quantum Midnight Magic X Mossrose Dandy Jewel)
This is an outcross for us, so we have really been enjoying this colt and what he has to offer! King's dam, Mossrose Dandy Jewel, is 15.1H and a big, solid, deep bodied mare with plenty of substance yet maintaining a nice feminine elegance about her. King's sire is the late 15.1H black Quantum Midnight Magic. King has been a big colt with a lot of substance from the day he was born. He was 12H by 3 months old! Also from the day he was born, he has been very friendly, coming up for pets whenever he sees us. He is always respectful & kind. When he approaches, he stops a few feet away and with ears up waits for us to go up to him. He is a big mover with a lovely trot and excellent working canter. He lopes off so nice & so slow, I'm convinced he could lope in place without a problem! He naturally works off of his hindquarters and changes leads with ease.
Click Here for a link to a YouTube video of King taken July 25, 2018. My helper Grace is showing me what he has learned thus far.
Sire
Quantum Midnight Magic
Sire
Windover Regency
Sire
Beamington
Sire
Mr Breezy Cobra
Dam
Ellen Bar
Dam
The Black Rose
Sire
Flyhawk
Dam
Rosena
Dam
Fannys Dark Lady
Sire
Scamp Ohara
Sire
King Ohara
Dam
Correll Willowfield
Dam
Lady Fanilyn
Sire
Archie Ashbrook O
Dam
Kilgoran Fantasi
Dam
Mossrose Dandy Jewel
Sire
Whippoorwill Newmoon
Sire
Blackwood Correll
Sire
Red Correll
Dam
Lady Rockwood
Dam
Whippoorwill Kathleen
Sire
Whippoorwill Duke
Dam
Broadwall Mayfield
Dam
Whippoorwill Halo
Sire
Sereno Dandy Vermont
Sire
Whippoorwill Telstar
Dam
Serena Fancy Vermont
Dam
Whippoorwill Corona
Sire
Blackwood Correll
Dam
Whippoorwill Aurora