Jane partnered up with Paul Banzet, from Kansas, to win the NMRHA Extravaganza World Champion Morgan Ranch Horse Sorting again this year. Jane and Paul ride Morgan geldings that are half brothers, both being sired by World's Edge Goldhawk.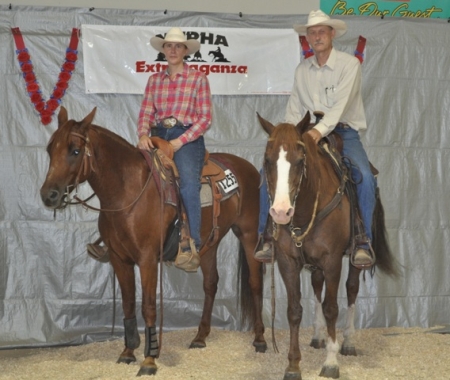 A working cowhorse clinic was put on by Monty Bruce this year. Travis Filipek has some wonderful ideas and this clinic was one of them! The first day was spent doing exercises to take the resistance out of our horses along with some boxing work with the cattle. The second day was work on the reining pattern & then work on taking the cattle down the long side of the arena. The third day was a real class judged by the Extravaganza event judge with Monty on the rail coaching the participants. Jane won this class riding Chief (Mossrose Top of the World). It was a great time & such a neat event to be involved in!
September 2010
John attended the Minnesota state ranch rodeo finals the second weekend in September. He was with a new team this year. Every year the team he is on seems to do a little better. He is working his way up. This year the team ended up in 8th place out of 35 teams.
While John was at the state ranch rodeo finals, Jane spent a week in Connecticut at Whippoorwill Morgans and McCulloch Farm. Mary Jean Vasiloff has been meticulously breeding classic Morgans of ancient bloodlines for 65 years. Mossrose Morgans has based their breeding program on the Whippoorwill Morgans. We did visit McCulloch Farm 8 years ago, but Jane wanted to see the Final Versatility Event to be held at McCulloch Farm. It was a superb event, very well run and showcasing the versatility of the Morgan breed. Jane came home with 1,850 pictures and 6 hours of video. If Jane's computer cooperates, there may be a DVD of the event available in 2011.
Jane took part in the Western Riding section of the Versatility Event and demonstrated the working western horse riding Whippoorwill Apollo.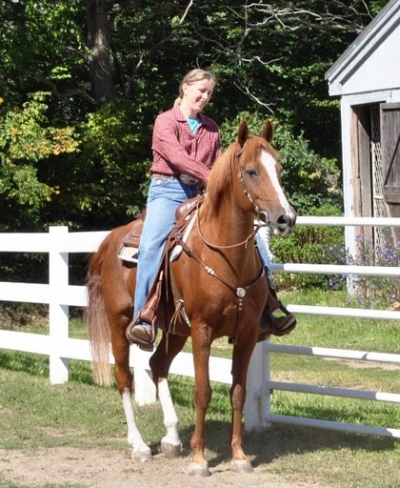 August 2010
John signed up to be in a ranch rodeo series this summer. It was at a new arena that he had never competed at before. We met a lot of nice people and enjoyed the competition. John was on one team this year and that team earned the most points for the series resulting in a first place finish. That earns the team a trip to the state ranch rodeo finals in September. The series consisted of 5 rodeos throughout the summer. A ranch rodeo has 4 events: Team Sorting, Doctoring, Trailer Loading and Team Penning. John rode Mossrose Top of the World - aka "Chief." Chief is really racking up the prizes and buckles and bringing home the paychecks time and time again. He has earned thousands of dollars and continues to just get better season after season.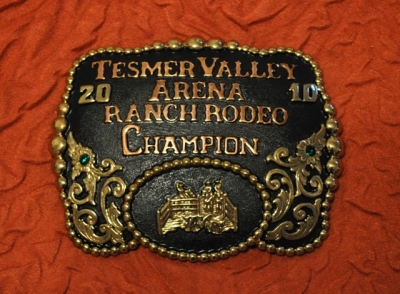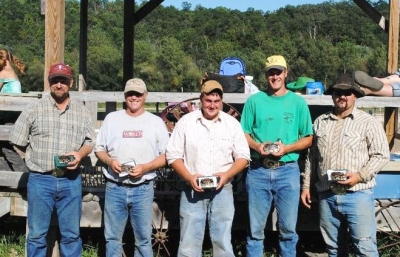 July 2010
We hauled Mossrose Top of the World (Chief) to the NMRHA Extravaganza in Lincoln, Nebraska again this year. He competed in only one event: Ranch Horse Sorting. Jane and Paul won the NMRHA Extravaganza World Champion Morgan Ranch Horse Sorting. It is always a fun show. Please contact us if you want to know more about the classes or the show. If you have an interest in the ranch horse versatility, sorting, reining, cutting or working cowhorse, this is an exceptional show to attend. The atmosphere is pleasant and very friendly. It tends to be a learning environment with a lot of fun and knowledgeable people.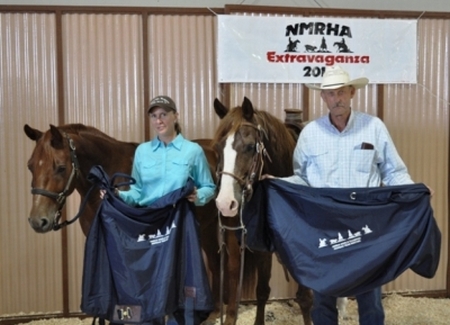 November 2009
The following is a story John and I wrote on our way home from the NMRHA Extravaganza in Lincoln, Nebraska in July 2009. The story was featured in the View from the Ingate section of the November 2009 issue of The Morgan Horse breed journal.
You Can Do It Too!
How one working Morgan with many jobs became World Champion Morgan Cowhorse
We have a little red horse. A Morgan horse. Everyone says he is cute, but he is mostly non-descript. Ride him into an arena with cattle and you will see a focused cowhorse, anxiously awaiting direction for the serious job at hand. At home in Wisconsin, Mossrose Top of the World (World's Edge Goldhawk x Carmida Mist), "Chief," is the main competition horse for John and Jane Pietenpol. John uses Chief in ranch rodeos, which include team penning, team sorting, trailer loading and rope & vet. Jane uses Chief for two person sorting and for giving many kids their first ride on a horse. Chief is also John's heel horse for team roping. We don't train specifically for any of the classes at the NMRHA Extravaganza, but we feel it benefits the Morgan breed by participating in the show. The working western Morgan is our passion and the Extravaganza is a show that helps to build on this part of the Morgan breed.
Prize money and one mighty fancy buckle proclaiming the NMRHA World Champion Morgan Cowhorse were up for grabs this year. The winner was the horse with the highest combined total points in Working Cowhorse, Ranch Horse Versatility, Cutting and 2 Person Ranch Sorting. The competition was tough and we are honored that our horse was able to claim this admirable title.
We don't go to the Extravaganza expecting to win top honors, but we do it to help support Travis Filipek in what she is trying to accomplish; generating interest among Morgan owners to show their talented Morgan horses in cattle related events. Morgans were one of the original stock horses and this event is promoting that type of horse. We are not anything special. We raise 2 foals each year, do all of our own training and promote the Morgan horse where we can in local and regional arenas. You can do it too! If you have a Morgan that you enjoy doing cattle work on or reining, you should consider attending next year's event in Lincoln, Nebraska. You will meet a great bunch of people who all want to show that the Morgan horse can be competitive with other breeds. A completely trained horse in a specific discipline is not required, just a desire to show your horse and have fun. Chief is proof of that.
September 2009