Horses Sold &
Customer Comments

Mossrose Glady Dancer
Fall of 2015 Glady went to her new home in Texas. Thank You!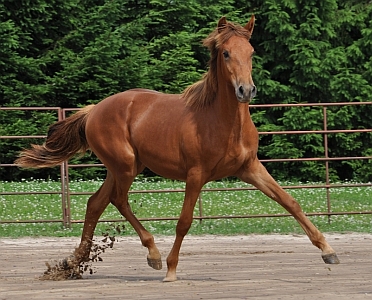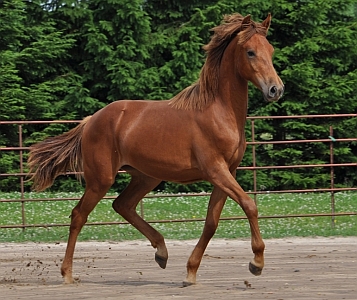 Rich, deep red chestnut filly by reining champion, Whippoorwill Newmoon and out of Red Rose Stardancer. Definite performance and using horse prospect! This filly is bold, smart, solid and sane with a spark of attitude enough to get a job done! She comes from a proven money earning sire and dam. Her sire is finished in reining and driving. Her dam is started in heading for team roping and has done a ranch rodeo series and team sorting. Sire is 15+H and dam is 15.3H. This filly will be a big, stout, handy mare when she matures. Glady is a classic, old fashioned looking Morgan with the ability to excel in a variety of disciplines. Newmoon is a prime example of versatility and ability as is Stardancer. Stardancer is one of those rare Morgans that is really big - allover big!! - but her size doesn't slow her down as she is very agile and quick on her feet. Stardancer is a sensitive working horse for an experienced rider, but is also one we trust with visitors at our farm that would like to ride. Glady is very similar to Stardancer from what we have seen so far. She is fun to watch at play as she stops on her hindquarters and rolls back so naturally. I am excited about Glady's future being trained in the western disciplines. I wish Glady and her knew owner the very best!
Click Here for a link to a YouTube video of Glady at liberty on June 24, 2015 as a yearling

Mossrose Californio King
Fall of 2015 Californio King went with his new owner to their home in Illinois. Thank You!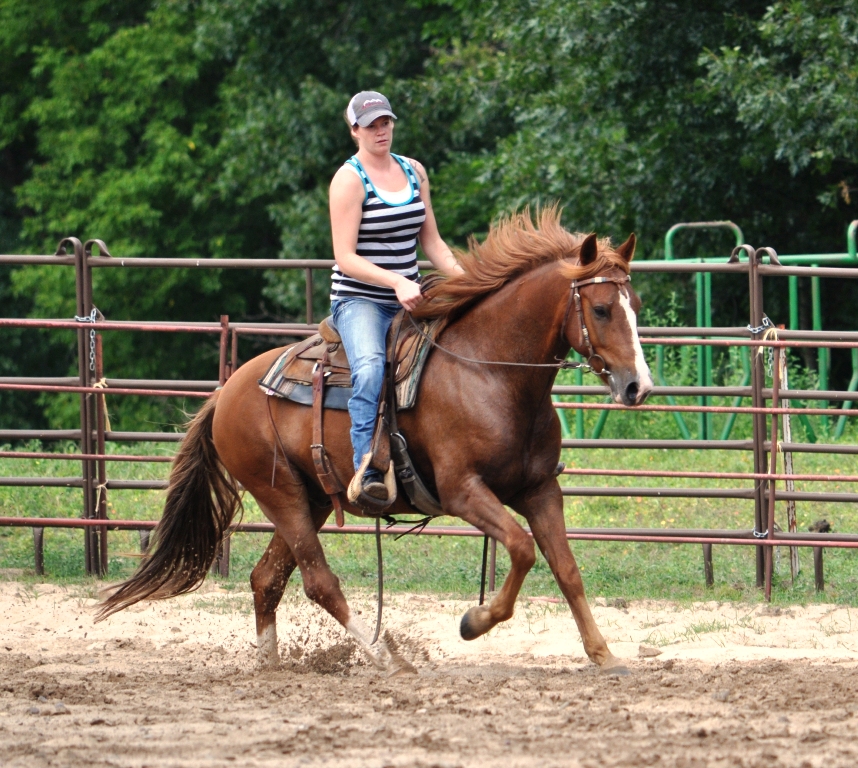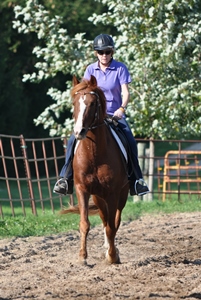 A handsome boy with old blood up close, 2010 gelding by reining champion Whippoorwill Newmoon and out of Whippoorwill Salus by Californio. He is quite a mover AND quite an athlete. He is handy and good on his feet, which we sure like in our working horses. He is very friendly, loves people and tries hard to please. He is versatile and will work for a variety of disciplines. He could easily be a western plesure horse with his fluid movement and naturally slower gait. However if you need a horse with gears, speed and a strong interest in cattle, he has those abilities just waiting to be developed as well. He is very comfortable to ride and easy to sit at the trot and lope. One of the best loping horses we have raised.
Rocket is the second "Mossrose Morgan" for his new owner. Rocket's new owner sent me the nicest email to share on this webpage:
I am now the proud owner of two Mossrose Morgan's. Mossrose Avalon came to our Farm as a four year old. He proved to be such a versatile , athletic and love-able horse. There are three riders in our family, myself, my daughter and granddaughter . It has always been a question of who was going to get to ride Avalon. So after three years we decided it was time to get another Morgan . Of course, we looked to Jane and John, it was our good fortune that Californio King, had just been put up for sale . We did not waste any time in going to see him. We bought him that weekend! I feel privileged to have these two awesome horses on our Farm . We will enjoy our Morgan's for many years to come or as my five year old grandson says " can we keep him forever" .
Click Here for a link to a YouTube video of Rocket in August 2015!

Mossrose Windfall
Fall of 2015 Windfall went to ShannonVale Morgans in Hungary. Thank You!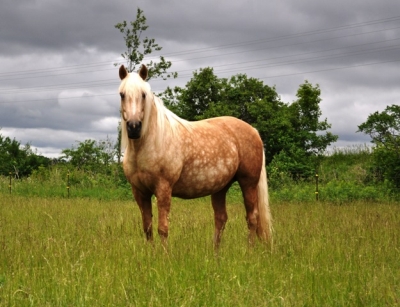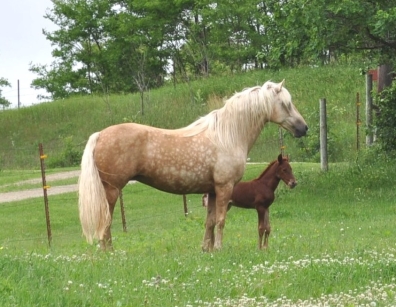 Windfall is a stunning mare by Triple S Chinook and out of Whippoorwill Salus. She is a 14.3H dappled palomino mare. Windfall was my main riding mare for a few years, so I had a hard time letting her go. We covered some miles trail riding and I started her in cutting and reining. She is very cowey and has an excellent work ethic. We wish ShannonVale Morgans the very best with Windfall.
Click Here to see a Photo Gallery of Windfall!
Click Here for a link to a YouTube video of Windfall under saddle, October 2014.

Whippoorwill Goldusty
Winter of 2014 Goldusty went to White Pine Morgans in Idaho. Thank You!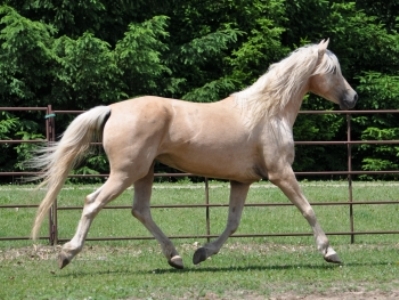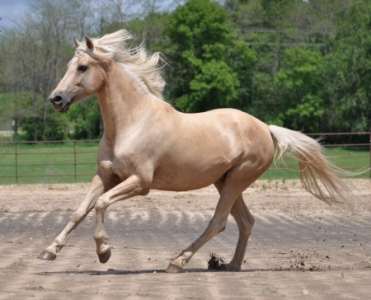 Goldusty is a lovely daughter of Whippoorwill Newmoon and Whippoorwill Salus. She is a 15.1H palomino mare. Judy admired her on a visit to Mossrose Morgans and eventually ended up acquiring Goldusty. I am so happy for both of them!
Click Here to see a Photo Gallery of Goldusty!
Click Here for a link to a YouTube video of Goldusty at liberty June of 2012

Mossrose Blazin Cross
Fall of 2014 Blazin went with Bill to New Mexico. Thank You!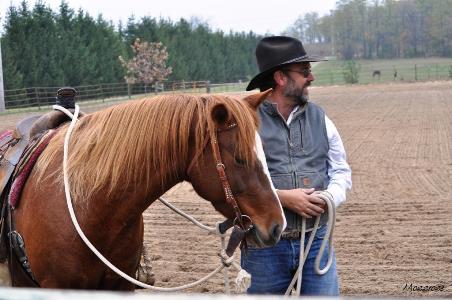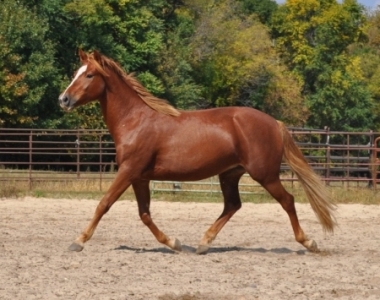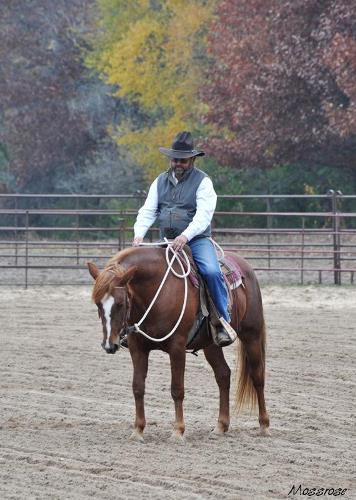 Blazin is such a beautiful mare. She has the conformation and looks that anyone would appreciate having in their herd. Blazin loves people and has an incredible work ethic. She is sensitive and tries so very hard to please. It was so touching for us to see the instant heartfelt connection between Bill and Blazin. We were immediately at ease and knew Bill was the perfect partner for Blazin. They have been enjoying long trail rides and enhancing their partnership in the arena as well.
Click Here for a link to a YouTube video of Blazin at liberty October of 2013

Mossrose Avalon
Spring of 2012 went to his new home Illinois. Thank You!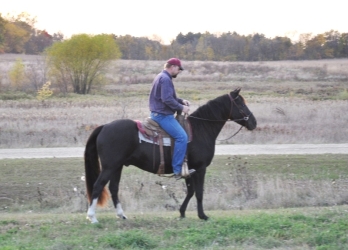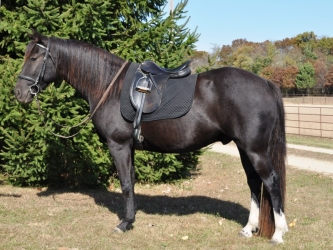 Click Here for a link to a YouTube video of Avalon at three years old

Mossrose Dark Knight
Fall of 2011 went to Mary in Southern Wisconsin. Thank You!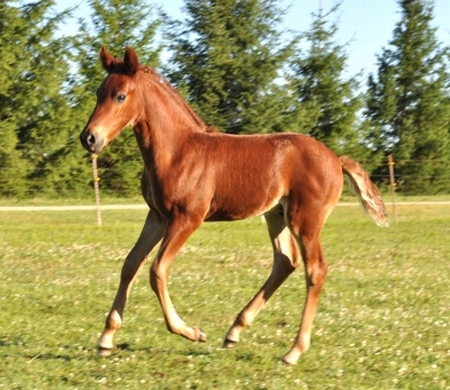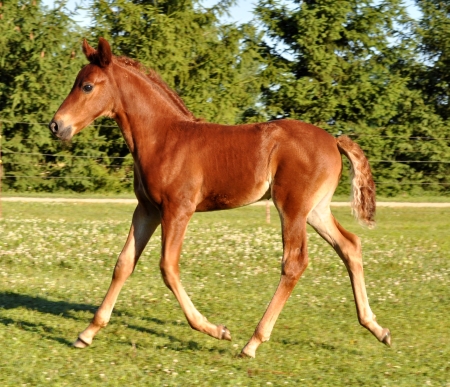 Californio Rojo
Winter 2010 went to Washington. Thank You!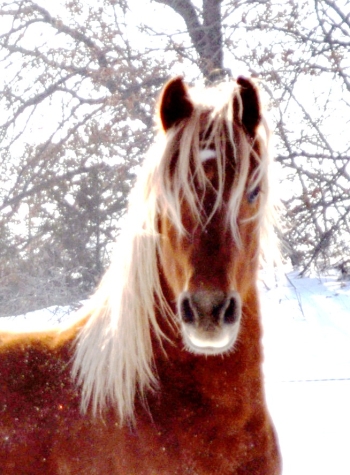 Rojo has a sturdy, powerful, correct build with rock solid feet and legs, a very calm demeanor and, consistent with Salus offsprng, a no muss, no fuss attitude. Rojo loves people and has an exceptional work ethic.
Click Here for a link to a YouTube video of Rojo.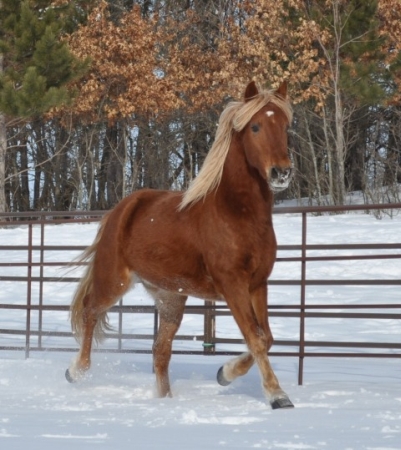 Be a good boy my handsome Rojo!

Whippoorwill Daybreak
In 2008 went to Pat in Owego, New York. Thank You!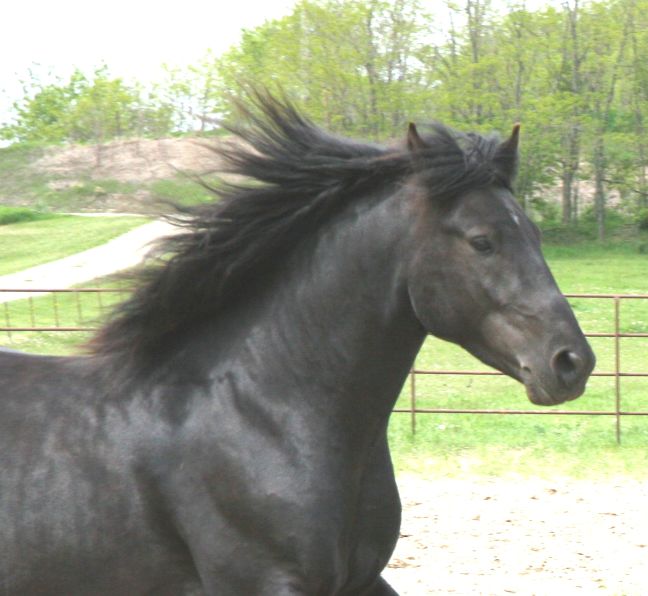 Davey stands 15-1/4H. He has plenty of substance and an easy going personality make him a pleasure to have around. He is solid black with a small roan star and thick, wavy mane, tail and forelock. He has excellent feet and legs and confirmation that is unmistakably Morgan.
We wish Pat and her family all the best with Davey!

Mossrose ZZ Hollywood - 2007 Colt
(Whippoorwill Daybreak x Gold Cross Miss Flicka)
In 2007, went to Ed in West Paducah, Kentucky. Thank You!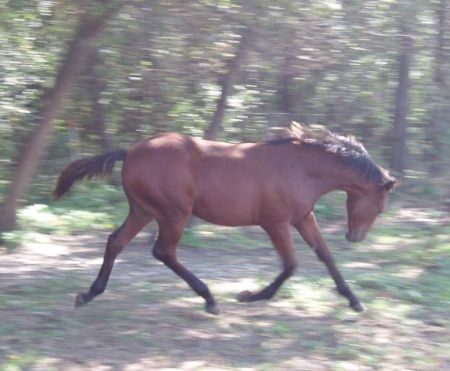 This colt is another deluxe athlete! Flicka's last stud colt was just like this one, phenomenal!! I can't say enough about this colt. From the beginning this colt has been dancing like the famous Lipizzaners in Vienna. He has been doing sliding stops and rollbacks like a reining horse. He can cover ground with an amazing lofty trot like a dressage horse. From the beginning, this colt has "sat down" on his hindquarters to stop. Hollywood is very friendly and shows some boldness. His sire is solid as a rock, bold and very easy to have around. This colt will look a lot like his sire in stature and substance. I am excited for Ed and look forward to watching this pair and what they will be doing in the future.

Mossrose Tanzanite
In 2006 went to Michele in Bristol, Connecticut. Thank You!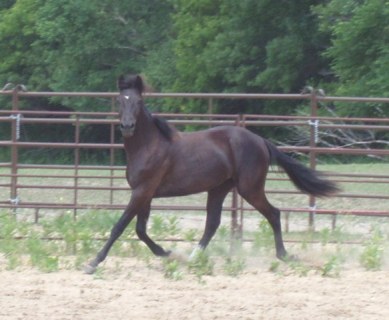 Black filly born April 15, 2006. Above picture taken as a yearling. This filly is BIG and has plenty of substance! She is by our stallion, Whippoorwill Daybreak and out of our beautiful mare, Gold Cross Miss Flicka. This filly has a beautiful face along with a hind sock and unique star to add some flash. She is put together right and has a smooth, floating trot.

Mossrose Regalia
In 2005 went to Debra in Warrior's Mark, Pennsylvania. Thank You!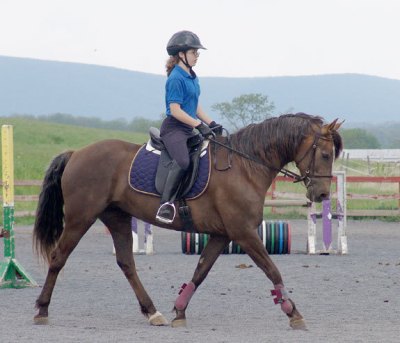 Mossrose Regalia is a 1999 Primavera Valdez daughter. She is a sooty palomino color. Her mane, tail and forelock are a mix of red, black, grey and white hairs. Reg is doing great with her new rider Maggie (Debra's daughter)! They are learning dressage together.

Mossrose Xtravagance
In 2005 went to Larry and Kristi of Krila Morgans in Canada. Thank You!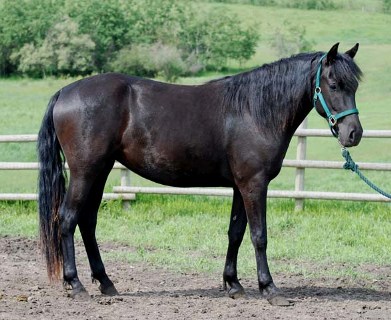 Black filly born April 22, 2005. Above picture taken as a 2 year old. Fancy, elegant, beautiful and as sweet as can be! This filly is classy. She is by Whippoorwill Daybreak and out of Gold Cross Miss Flicka. This filly has her mother's beautiful head along with her father's friendly, willing personality and color. She is put together right and has a breathtaking way of going.

Cattin Around Cowboy (Indy)
In 2005 went to Alison of Oronoco, Minnesota. Thank You!
This is a 1997 sorrel Quarter Horse gelding, Cattin Around Cowboy (Indy). He is a 16H impressive hunk of a guy! Most people that get up close to him can only smile and say "WOW!" This horse oozes with power, but is a gentle giant. What makes him so special is that you can have that power if you want it or Indy is perfectly happy to be Mr. Mellow. Indy's mother was the most powerful horse out of the roping box that John has ever ridden, with a willing heart as big as you will find. Indy proves to be following in her footsteps. Indy and his brother Puck, shown below, both have an extra gear above most horses we have seen. Both geldings power off their hindquarters to an amazing speed. Not only is Indy powerful and fast, but he is a super mover and could make it big in the dressage and jumping arena as well.

Indy is by the stallion Cowboy Medley (Jet A Van X Medley Time by Easy Jet) and out of the mare Fiddlers Cat by Fiddler's Choice by Otoe. Fiddlers Cat is out of Yellow Cat Bar 2 by Bold Dancer.
Mossrose Snazzy

Snazzy is a 2000 mare out of Jacque's Lor-Don-Lin and by Triple S Nugget.

"I purchased Snazzy on March 2, 2001 at the age of 8 months. She is a beautiful and proud filly with a great attitude who is very forgiving of my lack of equine expertise. She has a trusting, friendly heart. Though it didn't start out on friendly terms Snazzy has made the best of friends with Maggie, my black lab. In the three short months I've owned her she has won the hearts of everyone in the family, even my daughter-in-law who swore they would move if I bought a horse. She is a vision of gracefulness to watch as she lopes across the paddock. She is quick to learn and knows how to communicate her thoughts to people. She is spirited, determined, intelligent and curious. I couldn't find better words to describe my satisfaction with Snazzy or Mossrose Morgans. I must also comment on Jane who has gone beyond breeding a fine filly. Jane has been there to answer every question I've had, providing a wealth of knowledge on how to properly raise Snazzy and help develop her into a joy to spend time with."

Don Davis
Carlyle, Illinois
MOSSROSE OPENING VERSE

This big bay gelding is pictured here as an 8 year old. He is the fastest learning colt that I have raised. He is by Sail On Command, a Mad River Sailor grandson, and the mare Jacque's Lor-Don-Lin.

"Spike" is a joy to ride with his smooth ground covering trot and a big rocking chair canter. He is currently being shown hunt seat, dressage, jumping and eventing by his owners in Ohio and from what I hear, winning nearly every class he is entered in. Keep up the good work!

SASSY SUE DOCUMENT (Quarter Horse mare)

Trig is a 1990 palomino mare. She is a finished heading and heeling horse and is currently doing barrels and break-away roping on the Little Britches rodeo circuit. She is easy to have around and a pleasure to own.


JACQUE'S LOR-DON-LIN

This 1985 dark chestnut mare was one of my first broodmares.

She is not broke, but just watching her move in the pasture she gives the image of a great athlete. She can leap over big logs and tall fences from a standstill. Loralie has a lot of fire and attitude and is also a great
mother. Every one of Loralie's foals has been quality, whether the sire is
of old government breeding or of the western working family.

Loralie was sold in March of 2002 to Scott and Cheryl of Seguin, Texas. I wish them the best of success with this broodmare.

CARMIDA MIST

Carmida Mist is a super mare. She produced great babies for me. Misty's cheerful attitude and constant "talking" will be missed around our barn.

MOSSROSE RISING SUN

1999 buckskin mare. Racy is a well built mare with a gorgeous head like her mother's. Racy is by Sunup Neptune and out of Carmida Mist. Racy resides in Lincoln, California. Her owners are wonderful people and I wish them the best with this mare!

JACQUE'S MR MONTAQUE

This horse was the first Morgan I owned. I bought him at 18 months of age and was so impressed with the horse. He was easy to train and bonded in time and became my best friend. It was funny, he almost always knew what I was thinking. Monte was sold to Eunice of Decorah, Iowa in the fall of his 2 year old year and I have regretted it ever since. Eunice writes me once in a while and tells me each time that Monte (now renamed Buddy) is her best friend and seems to almost talk to her at times. She uses him for Western, English, and trail riding. Monte is a horse I honestly miss having around and was the start of my love for the Morgan breed. He is out of my old mare, Reverie's Rose Marie, and by a Quizkid and Westcrest Silver grandson.

MOSSROSE FLAIRE HAWK

This black gelding is Rimlo Black Valiant breeding on the top and bottom sides of his pedigree. I bought Hawk when he was 3 months old. He was a handful as a stud colt, but once gelded he became my best friend.


I started him riding as a 2 year old and had him broke to drive as a 3 year old. He is a great all around horse. He will do anything that is asked of him. I took him to a few shows to enter him in hunt seat and driving classes. In our first driving class (the first for both of us!) he took first place out of 9 entries. I felt like we didn't deserve it since the rest of the folks had been driving most of their lives, but Hawk did the best job that day!! The other drivers were giving me a lot of tips before the class started while we were warming up, so I do need to credit them also. It was an amazing day for Hawk and I! This horse will also go all day on a trail ride and never tire. He had been used for team penning 3 times and roped off of a few times. He really seemed to take to cattle - he wanted to get after them in a big way!


I sold Hawk as a 6 year old to be paired up with another black gelding for a man in Denver, Colorado who wanted a team for him and his wife to enjoy driving. The new owner really likes his team of Morgans. He drives them a lot and claims they will go anywhere for him. I am happy that Hawk is still being a good boy - I would expect nothing less from my old friend.

MOSSROSE OH SO RED

Red is a bright chestnut gelding shown here as a 2 year old. He is out of my old brown Townshend Doubletake/Windcrest Slendor mare and by a Mad River Sailor grandson. What a winning attitude this colt has! Riding him was so much fun! He was always excited to explore new places with ears forward and moving along at a brisk walk. He is now happily owned by Sam and Kandi of Beecher City, Illinois. They use him for pure pleasure out on the trail. He is also quiet enough for their kids to ride, which makes them very happy with their decision to purchase Red.

MOSSROSE PHENOMENON

This is a black colt by Edelweiss Magic and out of my old mare, Reverie's Rose Marie. He was born to be somebody - always standing proud! What a gorgeous colt! Phen was sold to Les and his daughter, Donette, from Manito, Illinois as a yearling. The spring of his 2 year old year, just before he was scheduled to go to a trainer to start his western pleasure training, Phen died in a pasture accident. I know his owners, as well as myself, feel the hurt and are aware of the loss of this great athlete and wonderful friend.

STREAK OF SPIRIT

This mare is out of a Thoroughbred mare I used to have to show hunt seat and a Rimlo Black Valiant Morgan stallion. People always comment on her beautiful head and loving disposition. I started her as a 2 year old in 1996 and sold her that summer to, then 14 years old, Amanda in Holmen, Wisconsin. Amanda used Spirit in 4-H and even rode her in a parade.

Spirit has been a great friend and inspiration to Amanda. Amanda calls me every once in a while to tell me how much Spirit means to her and how she has helped Amanda make it through her teen age years! Horses are wonderful for the soul.

Prairie Rose Stargate

I decided to name this smokey black 1998 filly, Sidney, after the town she was born in. I bought her from Mike and Cookie Miller of Sidney, Montana. She has a lot of the qualities I have been looking for to work into my quest for an excellent herd of western working Morgans. She is by reining stallion Tru West Pure Prairiesmoke. Sidney carries bloodlines I haven't worked with before, so I am very excited about starting her next spring and seeing what she can do.

We lost Sidney on 2/15/2000. We shall miss her.