Morgans For Sale

Mossrose King Correll
2018 Dark Chestnut Colt
100% Foundation Bloodlines
King was foaled May 21, 2018. His sire is Quantum Midnight Magic and his dam is Mossrose Dandy Jewel by Whippoorwill Newmoon. He is a tall rugged dark chestnut colt with a lot of bone & some really long legs! He has been very friendly from the start and very easy going. I see this colt in the dressage, jumping or eventing disciplines. He has 3 correct gaits and has handled himself well from the beginning. Priced at $3,000.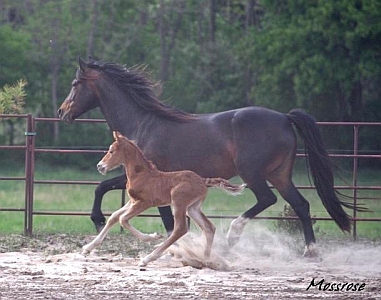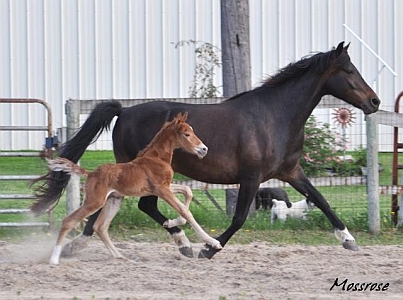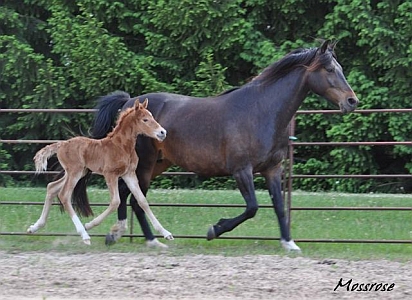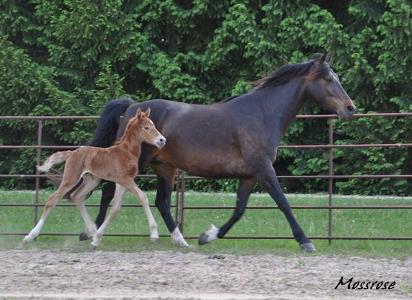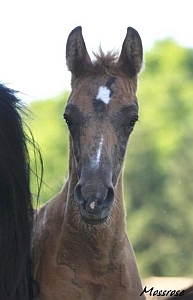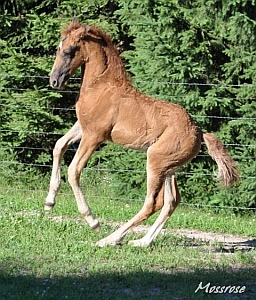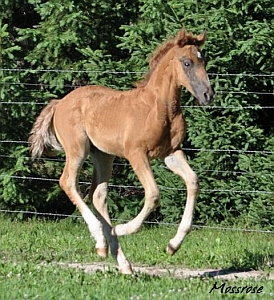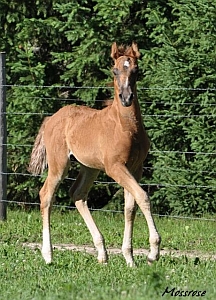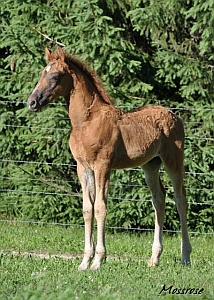 Click Here for a link to a NEW YouTube video of King taken July 25, 2018. My helper Grace is showing me what he has learned thus far.
Sire
Quantum Midnight Magic
Sire
Windover Regency
Sire
Beamington
Sire
Mr Breezy Cobra
Dam
Ellen Bar
Dam
The Black Rose
Sire
Flyhawk
Dam
Rosena
Dam
Fannys Dark Lady
Sire
Scamp Ohara
Sire
King Ohara
Dam
Correll Willowfield
Dam
Lady Fanilyn
Sire
Archie Ashbrook O
Dam
Kilgoran Fantasi
Dam
Mossrose Dandy Jewel
Sire
Whippoorwill Newmoon
Sire
Blackwood Correll
Sire
Red Correll
Dam
Lady Rockwood
Dam
Whippoorwill Kathleen
Sire
Whippoorwill Duke
Dam
Broadwall Mayfield
Dam
Whippoorwill Halo
Sire
Sereno Dandy Vermont
Sire
Whippoorwill Telstar
Dam
Serena Fancy Vermont
Dam
Whippoorwill Corona
Sire
Blackwood Correll
Dam
Whippoorwill Aurora

Mossrose Juneau
2017 Buckskin Gelding
100% Foundation Bloodlines
UPDATE AUGUST 2018! Click Here for a link to a NEW YouTube video of Jace at liberty August 29, 2018
JUNE 2018 ~ Jace is doing well with his lessons. He is such a fast learner that I can't make a video fast enough before he has moved on to new things! He is now wearing a saddle and learning to long line.
Click Here for a link to a YouTube video of Jace learning to long line & wear a saddle June 2018
MAY 2018 ~ Jace is really growing into a handsome boy. We have a wonderful young lady working with Jace this summer that has a lot of experience handling & training youngsters. Jace is really coming along quickly with her expert skills. The first day she mainly did obstacles with him. He took them all in stride & kept us wondering what to try next. He was nibbling on some grass when she went to get the blue tarp. From what she had experienced with the rattling milk jugs, bag of aluminum cans & rattling hula hoop, she knew he most likely wouldn't mind the tarp. She tossed it near him & then picked it up & put it on his back. Never once did he quit nibbling on the grass or move his feet. Just moved his ears & eyes in the direction of the tarp. We looked at each other & thought we better come up with something to keep him interested! He is a smart youngster & keeps us on our toes thinking up new things to do with him! He has been started on very light lunging basics & round pen skills getting him to listen & respond to our cues at the walk & trot. He has been in & out of the trailer a number of times & hauled around our neighborhood with a quiet older gelding. He didn't make any fuss & no sweating from worry. All went well! We feel he is going to be stunning when he matures & would be a dynamite gelding to show & to use to promote the breed. He is going to turn heads wherever he goes. Below are a few pictures of his progress.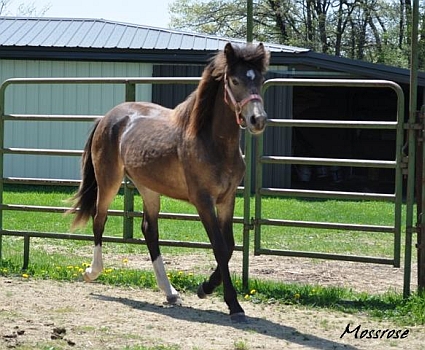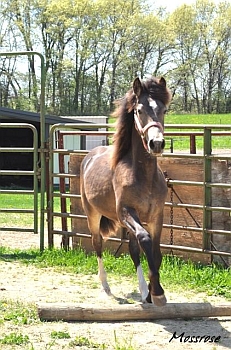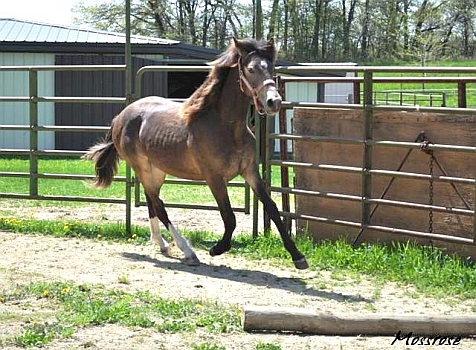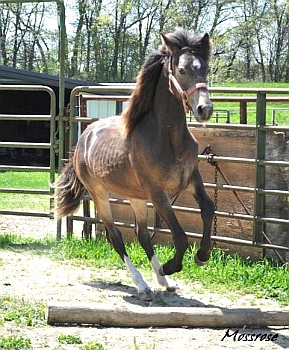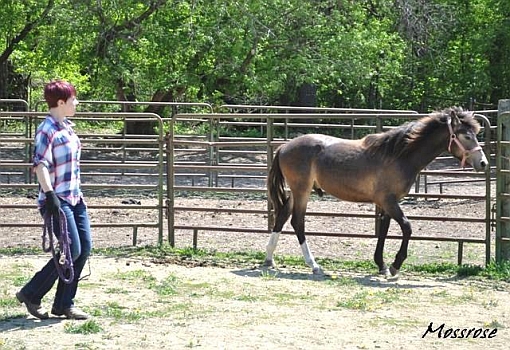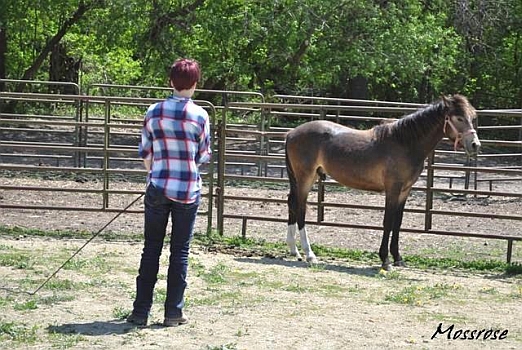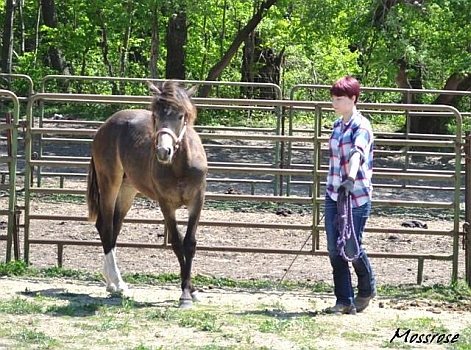 The two pictures below are of Jace in the fall of 2017.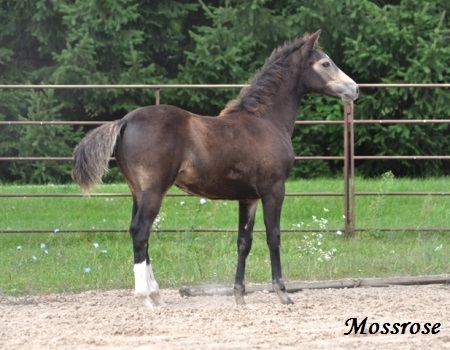 Mossrose Ysabella (Montanan Harvest x Whippoorwill Salus) foaled this superior buckskin colt by Whippoorwill Newmoon (Blackwood Correll x Whippoorwill Kathleen). Newmoon and Ysabella are pictured below. This colt is easy going and a joy to have around. I have started calling him Jace and it seems to fit him. Like all of our Morgans, he is smart and tries hard to please his people.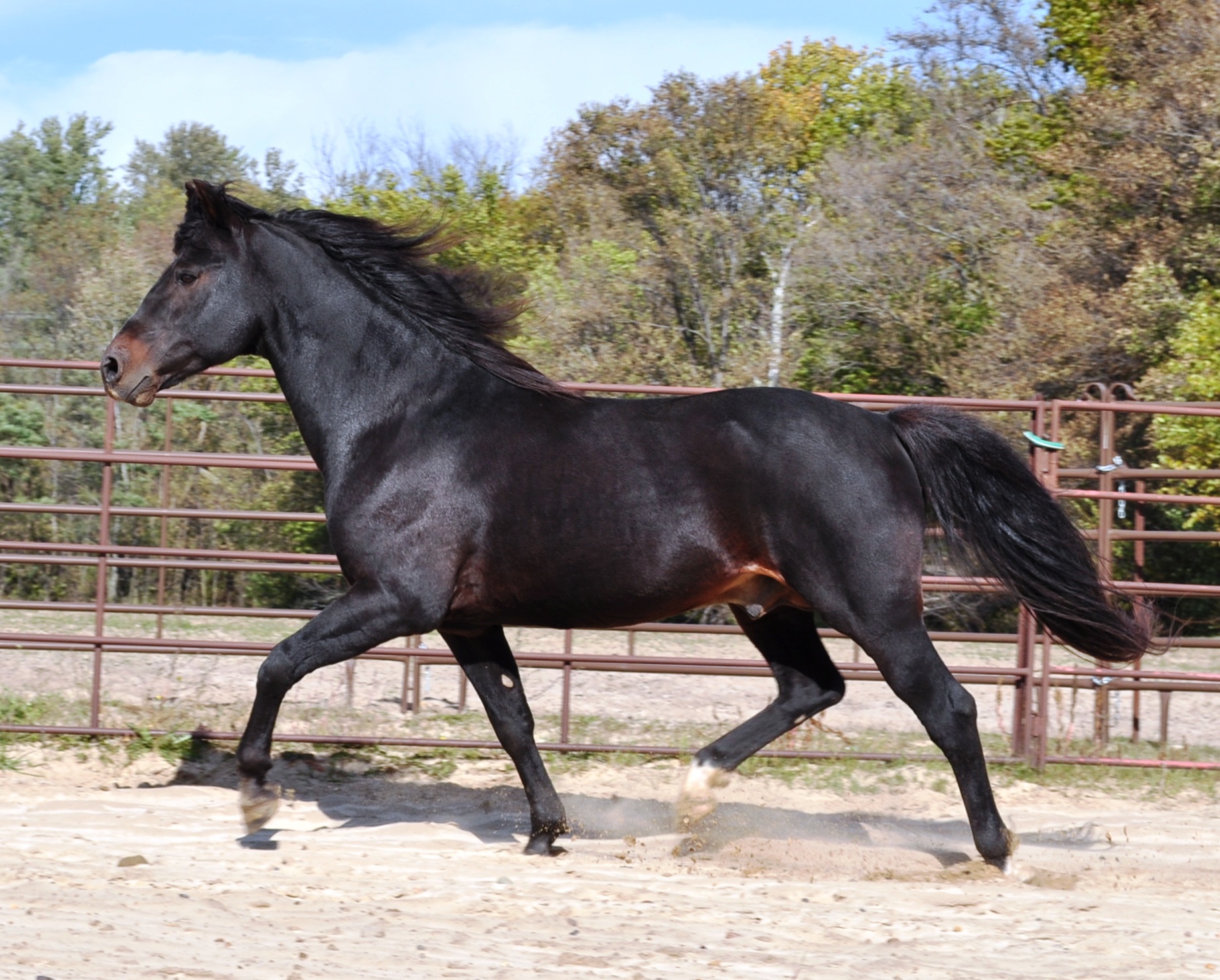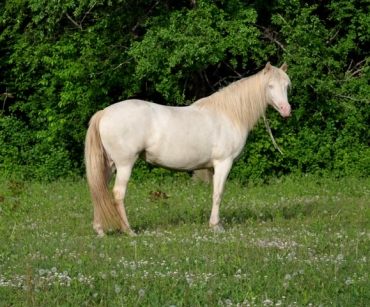 Jace is a top performance prospect. When looking at the successful horses in this pedigree and seeing the way he handles himself, it is no surprise. He was carefully bred with this in mind. There are 4 colts of this same cross and we have retained one for ourselves as a stallion prospect and using horse, Mossrose Golden Ridge, who this colt most resembles. Ridge can be seen on "The Boys" page to give you an idea of how this colt should mature. Jace should make it to 15.1H without a problem, possibly 15.2H.
This 2017 colt is handled twice a day. He most often meets us at the gate in the evening, is easily haltered and led to a tie stall. He stands tied quietly in the tie stall while he eats his grain. At night he goes in a box stall or dry lot with a gelding. He is kept current on deworming, vaccinations and having his feet trimmed. He is hardy, healthy and ready to go on to a new home.
We strive for the true versatile Morgan Horse and feel Jace is just that. He should be able to excel at a variety of disciplines. He will shine bright and be a stunning example of the classic Morgan Horse. He already jumps small logs and piles of brush with ease, so those skills could be honed as well. He has 3 correct gaits. He moves straight and true with a nice length of overstride at the walk and trot. We have worked hard to acquire breeding stock that have a ground covering walk, a nice, round, baroque trot and an excellent canter/lope. The blood breeds true and this colt is a fine example of the classic Morgan Horse. Jace is the complete package of pedigree, conformation and ability making him a top performance prospect.
Click Here for a link to a YouTube video of Jace from birth to present, ending with photos and video of him at liberty on September 10, 2017
Click Here for a link to a YouTube video of Jace at liberty on March 27, 2018
Sire
Whippoorwill Newmoon
Sire
Blackwood Correll
Sire
Red Correll
Sire
Will Rogers
Dam
Kate Smith
Dam
Lady Rockwood
Sire
Shenandoah Red
Dam
May Rockwood
Dam
Whippoorwil Kathleen
Sire
Whippoorwill Duke
Sire
Squire Burger
Dam
Broadwall Mayfield
Dam
Diana-Mansfield
Sire
Panfield
Dam
Silver Mae
Dam
Mossrose Ysabella
Sire
Montana Harvest
Sire
Triple S Red Cedar
Sire
Triple S Red Major
Dam
Triple S Goldusty
Dam
Tia Margarita
Sire
Tio Lalo
Dam
Gay Berta
Dam
Whippoorwill Salus
Sire
Californio
Sire
Tio Lalo
Dam
Sissey
Dam
Whippoorwill Pazazz
Sire
Whippoorwill Duke
Dam
Piankeshaw Juzana

Mossrose Golden Ridge
2014 Buckskin Stallion
100% Foundation Bloodlines
Click Here for a link to a YouTube video of Ridge at liberty at two years old, August 13, 2016.
Buckskin stallion by multi-champion reiner, Whippoorwill Newmoon & out of Mossrose Ysabella, who is by the reining champion Montana Harvest. Ysabella is out of Whippoorwill Salus who is by cutting champion Californio. Check out the pedigree on this stallion. Ridge carries old blood up close & was bred to be a performance horse. In our lifetime of raising horses, we've kept less than a handful as stallion prospects. Ridge is one we believe in & feel should be kept intact if possible. As a gelding, he would be a good representative of the breed & useful for promotion. We have handled him regularly his whole life. He is kept up to date on trimming, deworming & vaccinations. Ridge spent May & June of 2018 with a professional trainer getting started under saddle. I have some pictures & video from his time with the trainer. Like all of our Morgans, he is athletic, smart and tries hard to please his people. He is what my working horse dreams are made of. However, we can't use him. Our mare herd is made up of his dam & his sisters. Private Treaty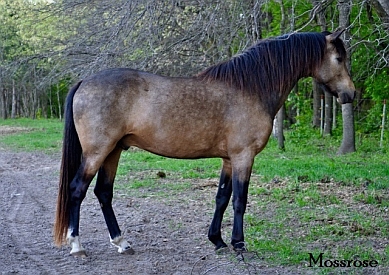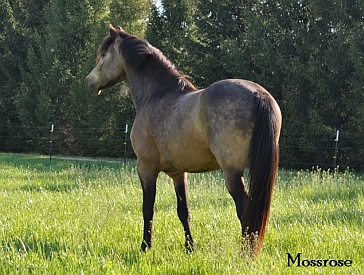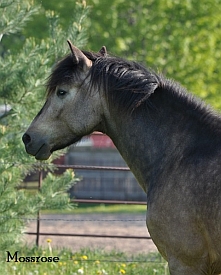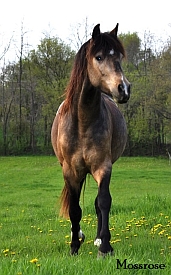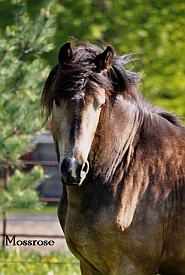 2016 Photos Below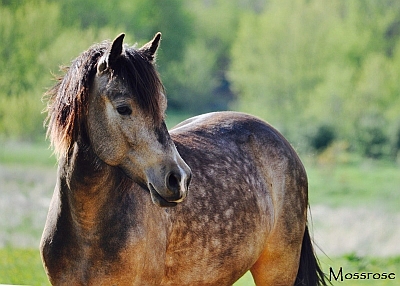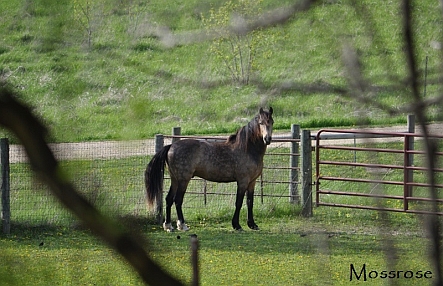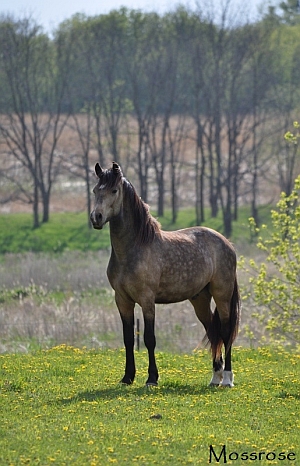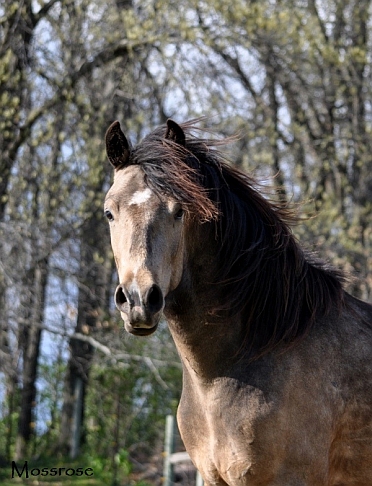 Sire
Whippoorwill Newmoon
Sire
Blackwood Correll
Sire
Red Correll
Sire
Will Rogers
Dam
Kate Smith
Dam
Lady Rockwood
Sire
Shenandoah Red
Dam
May Rockwood
Dam
Whippoorwil Kathleen
Sire
Whippoorwill Duke
Sire
Squire Burger
Dam
Broadwall Mayfield
Dam
Diana-Mansfield
Sire
Panfield
Dam
Silver Mae
Dam
Mossrose Ysabella
Sire
Montana Harvest
Sire
Triple S Red Cedar
Sire
Triple S Red Major
Dam
Triple S Goldusty
Dam
Tia Margarita
Sire
Tio Lalo
Dam
Gay Berta
Dam
Whippoorwill Salus
Sire
Californio
Sire
Tio Lalo
Dam
Sissey
Dam
Whippoorwill Pazazz
Sire
Whippoorwill Duke
Dam
Piankeshaw Juzana